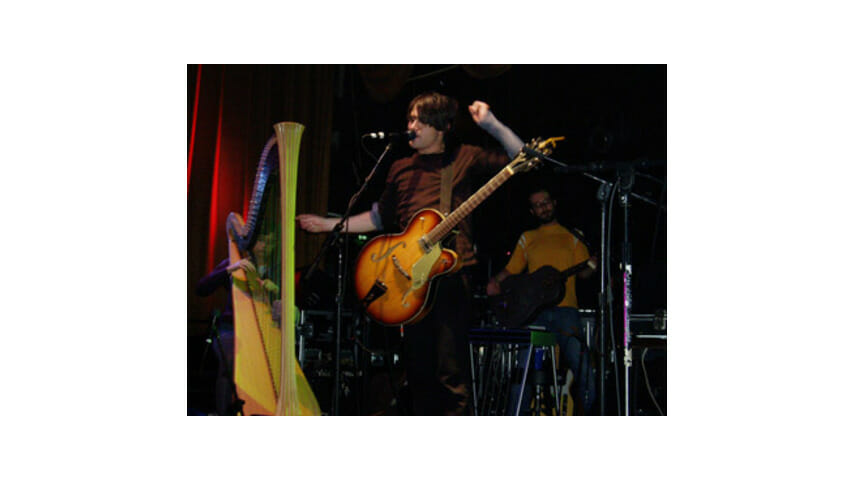 (Bright Eyes' Conor Oberst sings during the beginnning of his set.)
On the first deadly cold night of the Southern winter, college kids, townies and a handful of scattered indie-rock fans packed Athens' Georgia Theatre.
As a couple underage girls poured Jack Daniels into their Cokes in the women's restroom and Bright Eyes über fans packed tight on the raked floor near the stage, The Magic Numbers kicked the night off with a psychedelic jam but moved swiftly into beach-party pop and toe-tappin' '60s-soul-influenced rock. The shaggy-haired quartet—composed of two brother/sister pairs—impressed with its tasteful use of melodica and glockenspiel.
After an eight-song set, and a 20-minute break, Feist entered the spotlight in a pristine white suit, her band in tow. Like a hard-ass Tinkerbelle, she woah-ed and yeah-ed, sampling her voice over and over until what sounded like a chorus of fairies filled the room.
Then the band joined in and turned "When I Was a Young Girl"—a calm, laidback rhythmic tune from Feist's Let It Die—into an intense tribal celebration. The drummer played with his hands and Feist shook her body every few notes like a woman possessed. The songs may have had the same words and general melodies from the mostly chilled-out studio album, but they were all tweaked and amped up to make them rock-concert worthy. Feist came off like that little shy girl in high school who put all inhibitions aside, rocked the mic at the talent show… and won.
After Feist's 45-minute, near-perfect controlled mess, the stage was set for a small orchestra—upright bass, two drum sets, bells, trumpet, keyboards, laptop and more. The audience, dressed in sweaters, scarves and long coats for the first time this season, had a feeling something special was about to unfold.
A lone harp player began by strumming us hypnotically to Never Never Land. Then the boyish Peter Pan himself, Conor Oberst, strolled onstage with five other ensemble members as dozens of camera flashes burst from the crowd. Bright Eyes' multilayered music was filled with gritty emotion and bolstered by weighty lyrics. He spit out the words as if he'd never sung them before—his life story full of grief, triumph, love and war.
"It's just so weird to be in front of a crowd in Athens that claps," Oberst chuckles after putting the crowd in a daze with the first few songs.
He moves from center stage and joins his bandmate on the keyboards to play "Gold Mine Gutted," the night's only song from the electronically inspired Digital Ash in a Digital Urn. Then he closes his eyes and sways as he bangs out ethereal notes from the keys. Eventually, Oberst breaks the music, launching into an inspired anti-war rant, but ending on a positive humanitarian note—"All you've got to do is care," he says. Soon after, the band vacates the stage, leaving Oberst to sing solo—just him and his acoustic guitar.
"When everything is lonely I can be my own best friend," he sings on "Lua," as the crowd joins in. Later he gives Lifted's "Bowl of Oranges" personal significance to the crowd, saying he wrote it in Athens about a girlfriend, back when everything was "glorious." One of the two drummers steps forward to play the clarinet and the song is belted out beautifully.
To close the set, Oberst calls Clay Leverett—frontman of The Chasers and Lona, and drummer for Saddle Creek band Now It's Overhead— and hands him a tambourine. Oberst shouts the familiar "I need a goddamn timpani roll!" from "Let's Not Shit Ourselves," Lifted's final track, and blasts us with complaints about the media and the big city. Time nearly stands still during the song's climax when he violently throws back the bottom half of Leverett's dark liquor drink. As few drops splash off his chin, glimmering in the lights, he throws the clear plastic cup to the stage in true rock-star fashion.