Brittany Howard's Remarkable Solo Debut Erases Genre
On Jaime, the Alabama Shakes frontwoman gets political on a collection that defies easy categorization.
Music
Reviews
Brittany Howard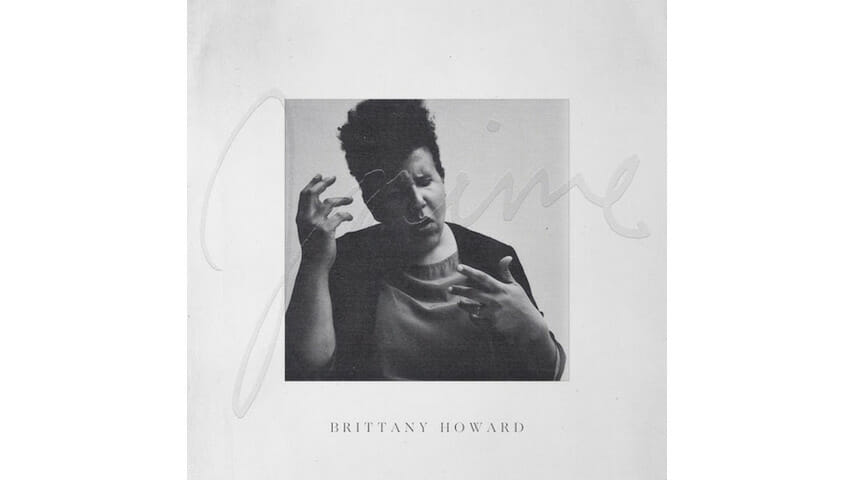 In some of the press photos for Brittany Howard's self-produced solo debut, Jaime, the esteemed Alabama Shakes frontwoman is caught in the midst of creation. In all these pictures, she's seen forcefully singing; sometimes, she's dancing, belting with all the power of her lungs or, as seen on Jaime's artwork, channeling some higher power. These images suggest that singing and moving soulfully is the essence of Howard's being, almost as if making music is the only way she can feel at ease.
These photos are apt reflections of Jaime's music. The album's 11 songs are spontaneous, fluid and entirely indifferent to genre as they pour out of her like the torrential rains of an evening thunderstorm. Although Alabama Shakes came close to making music this amorphous and quietly riotous on 2015's Sound and Color—the shuffling "Guess Who" and the dimly lit "Sound and Color" among those highlights—Jaime is Howard's sharpest cocktail yet of folk, blues, gospel, jazz and soul. Free of her band's explicit rock tendencies (though Shakes bassist Zac Cockrell joined her in the studio alongside jazz drummer Nate Smith and legendary keyboardist Robert Glasper), she re-imagines her former band's defining sound while exploring the very social ills these genres first addressed.
On squelchy opener "History Repeats," Howard's repeated chanting drives home a bluesy but galactic groove that never tires. "Stay High" combines scratchily recorded guitar strums and arhythmically twinkling chimes into a celestial backdrop appropriately reflective for Howard's reminiscence on her childhood. On "Tomorrow," Howard considers the promise of the future over gospel-indebted organs, call-and-response sections and handclaps. It's more Brainfeeder than Boys & Girls.
Howard's genre experimentation is most impressive on Jaime's two most socially pointed tracks. "Goat Head" miraculously mixes lilting piano lines, tin-can drum work and playfully pelted xylophones into all but an adult nursery rhyme. Throughout the track, Howard recounts her upbringing as the daughter of a white mother and black father in rural Alabama, and the racism and hate crimes her family faced. "My mama was brave / To take me outside / 'Cause Mama is white / And Daddy is black / When I first got made / Guess I made these folks mad" is the sort of deeply personal statement others might deliver with rage, but the song's arrangement and Howard's recitation renders her tale as no more incisive than a bedtime story. When she asks "Who slashed my dad's tires and put a goat head in the back?" and admits she'll never know the answer, she's not exploding with rage. She's instead calmly, but not quietly, tackling the ways that racism is woven into society.
Not that she's just going to sit back and accept this. On the album's other boldest gambit, "13th Century Metal," Howard promises to "spread the enlightenment of love, compassion, and humanity to those who are not touched by its light," "speak for those who cannot speak" and "oppose those whose will is to divide us and who are determined to keep us in the dark ages of fear." Though these lyrics, not to mention the rally cries, ("I repeat, we are all brothers and sisters" and "give it to love"), could easily come across corny and clichéd, Howard's unorthodox fusion of acidic synth triplets, rapid drum fills and her heavily-filtered speaking is as energizing and out-of-body as the most fervent of Sunday services.
"13th Century Metal" and "Goat Head" showcase the highs that Howard can reach when she's fully in command. "I am a master student, and my spirit will never be stomped out," she declares on the former track. This line puts words to the singing photos that have defined Jaime's rollout: When Howard lets her passion flow unadulterated, she comes out at the top of the class.