Car Seat Headrest's Will Toledo Calls Wes Anderson's Isle of Dogs "Racist" and "Infuriatingly Bad"
The musician took to Twitter to declare it "the first Bad Wes Anderson Movie"
Photo by Rich Fury/Getty
Music
News
Car Seat Headrest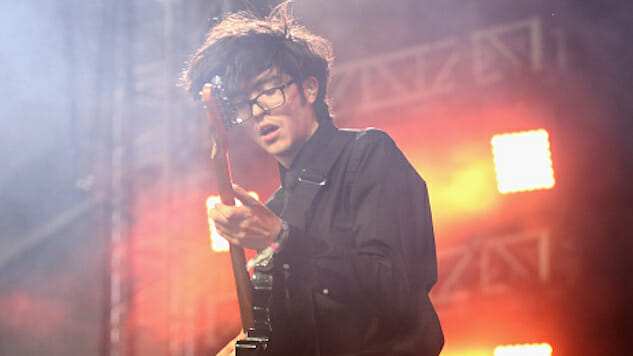 Not everyone is happy about Wes Anderson's new stop-motion picture, Isle of Dogs. Even before the film's limited-theater release, many critics called the movie out for its racial insensitivity to Japanese culture. Critics like Los Angeles Times writer Justin Chang and The Washington Post's Ann Hornaday, among others, publicly addressed the film's cultural appropriation, prior to its release.
Adding his name to the list of those not-too-thrilled about the movie's cultural setting is Car Seat Headrest's Will Toledo, who took to Twitter on Wednesday night to speak out against the film.
The musician shared his strong views against the new movie, writing on his Twitter page: "Isle of Dogs is bad. It is an infuriatingly bad film. I am infuriated." The musician continued, "like. why. why is it racist. why is it written as a joyless kid's film when it's specifically designed to be alienating and inappropriate for kids. why is it so fucking ugly?"
Toledo also reposts a /Film review of the film, describing it as a "solid summation" of his own views. This was before telling off Anderson in a tweet reading, "I mean props to Wes for finally making a movie that would appeal to literally zero people beyond himself. But also, fuck you." Toledo also told off Pitchfork, appearing to take issue with their coverage of his remarks.
While Toledo's views on the film are shared by many, Isle of Dogs continues to perform solidly during its limited release. Variety reports that the film opened with $1.57 million during its 27-theatre limited run. With a current average of 93 percent on Rotten Tomatoes, Isle of Dogs is set to go wide this upcoming weekend.
Read Toledo's Twitter comments down below and revisit Toledo's recent cover one of Frank Ocean's songs right here.
Isle of Dogs is bad. It is an infuriatingly bad film. I am infuriated.

— car seat headrest (@carseatheadrest) March 28, 2018
like. why. why is it racist. why is it written as a joyless kid's film when it's specifically designed to be alienating and inappropriate for kids. why is it so fucking ugly

— car seat headrest (@carseatheadrest) March 28, 2018
I mean props to Wes for finally making a movie that would appeal to literally zero people beyond himself. But also, fuck you

— car seat headrest (@carseatheadrest) March 28, 2018
This is the first Bad Wes Anderson Movie and I am so disappointed that such a thing exists now.

— car seat headrest (@carseatheadrest) March 28, 2018
oh fuck off @pitchfork

— car seat headrest (@carseatheadrest) March 29, 2018
https://t.co/apjhk9RgtS a solid summation, links to other articles pointing out the same thing, etc

— car seat headrest (@carseatheadrest) March 29, 2018