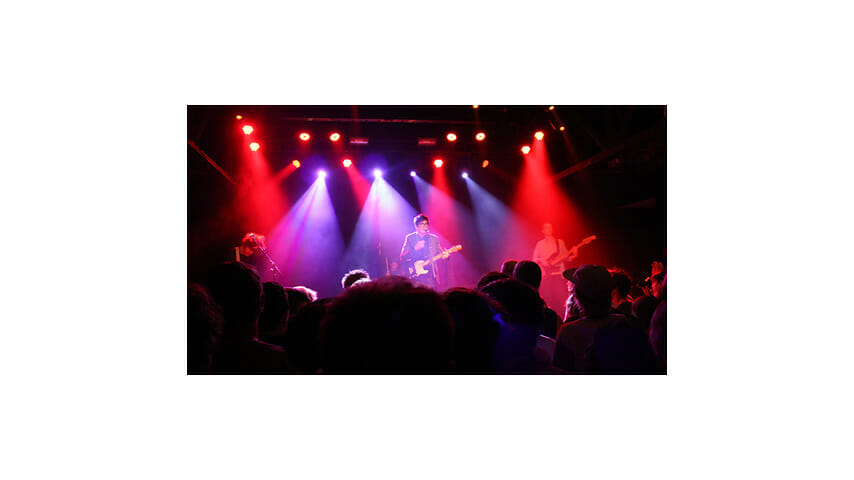 It's difficult to tell where Car Seat Headrest ends and Will Toledo begins, but both made a memorable appearance at Atlanta's Terminal West venue last night, bringing the poignant noise for a sold-out crowd. Their Teens of Denial-centric set began and ended with Toledo alone, his subdued voice betraying the heavy heart underneath his band's meteoric rise. As drummer Andrew Katz later pointed out between songs, it hasn't been long since Car Seat were playing for six people at a time, and it was telling that Toledo responded by noting exactly how long. The uber-talented frontman and creative core of Car Seat emanated loneliness, coming across like the kind of guy who would rather hang out with your pet at a party, embodying his music.
But rock-star swagger or no, sandwiched between the somber Toledo interludes was an hour-and-a-half long reminder that Car Seat is one kickass rock 'n' roll band. "Fill in the Blank" inspired the first of the evening's many raucous shout-alongs, and the back-to-back-to-back of Teens of Denial tracks "(Joe Gets Kicked Out of School for Using) Drugs With Friends (But Says This Isn't a Problem)," "Drunk Drivers/Killer Whales" and "Vincent" was show-stoppingly, mosh-inspiringly epic. Katz, hardly content to fade into the background, was as infectiously energetic on the drumkit as he was on the mic as the band's de facto MC, while bassist Seth Dalby gave a steadfast, if workmanlike, performance in building out the low end.
All told, Toledo and company put on an undeniably dynamic show, particularly guitarist Ethan Ives, who chipped in more-than-capable back-up vocals throughout and, at one point during their sprawling rendition of "Vincent," spun out an acidic solo for the duration of a mid-bridge Toledo bathroom break. This was hardly the only awkwardness of Toledo's—he also tripped over the lyrics during "Fill in the Blank," and later had to pause his solo performance of Frank Ocean's "Ivy," though, to be fair, he said he'd recently rewritten (and hence forgotten) some of the lyrics. It's hard to blame Toledo for the odd slip-up, as his music's lyrical depth and density is one of its defining qualities, while the frontman's endearing everyman-hood is one of his.
Car Seat were at their best ripping through their cathartic indie anthems as a band, from the heartbroken bounce of "Maud Gone"—which Toledo explained, in a rare verbose (as opposed to mumbled) moment, is an ode to W.B. Yeats that attempts to capture the unique emotion of having sex, but still "feeling like a virgin inside your soul" afterwards—to the throat lump-inciting spoken-word bridge of "The Ballad of the Costa Concordia," to the yearning crash of Teens of Style stand-out and set closer "Something Soon." The show was a potent distillation of the singular mix of introversion and aggression, vulnerability and empowerment, insouciance and precision that makes Car Seat Headrest one of the best rising acts in rock.