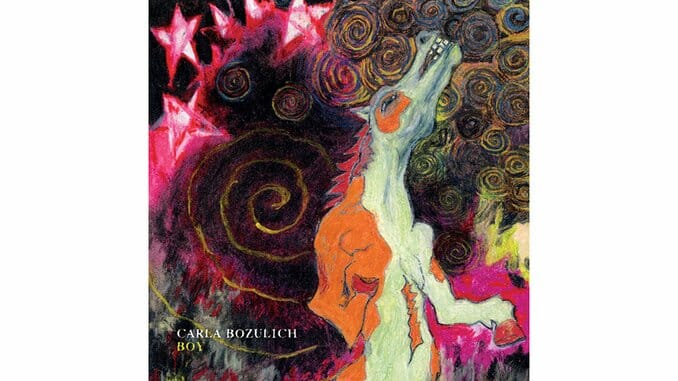 If you've followed Carla Bozulich's post-Geraldine Fibbers career, the first thing you'll notice with her latest solo effort is how quickly her voice appears. Quite literally one second after the first elastic bass notes start on the opening track "Ain't No Grave," she is there, with a creeping bit of blues bravado: "There ain't no grave that can hold me down." It's not an unusual device for an album, but it sets a very firm tone from the get-go: you're in her world now, so look alive.
Bozulich returns to that conceit through the course of Boy to ensure that she has your full attention. But even without her upfront vocals on tracks like "Danceland" and "Deeper Than The Well," the album would be hard to turn away from. As she has done with her former project Evangelista and in collaboration with folks like Ches Smith and Nels Cline, she continues to make music that exists between genres, reverberating with the ghostly echoes of her various influences: avant rock, blues, experimental jazz and pop.
It's that last stimulant that rings loudest on this album. At least, that's what Bozulich would have you believe. In press materials, she's been calling this her "pop album." Her version of that genre comes out as skewed as her efforts to create a country band turned into the deep-throated howl of her former band Geraldine Fibbers. Her point remains valid though as her use of cleaner, hookworm melodies has helped create her most accessible work in years.
The music within continues to challenge and provoke. Recorded in collaboration with multi-instrumentalist John Eichenseer and drummer Andrea Belfi, the three stir up an inky soup of electronically tinged mood music. The guitars evoke images of a narcotized Link Wray, augmented by some groaning cellos, the welcome pling of a hammered dulcimer and rhythms that, when they're not settled into a calm groove, calmly wander the stereo field. And through it all slinks Bozulich, making come-hither statements (her seeking of "one hard man" in the song of the same name ain't symbolism) or shoving the same man back on his heels.
Boy, like so much of Bozulich's work over the past decade, stands in defiance of our single track-serving music consumption culture. This is an album to be imbibed in one long, slow 42-minute, 10-course session. It's another glorious achievement for an artist who has created so much amazing art since arriving into the world fully formed way back in 1982. Long may she run.