Caroline Polachek Realizes Her Potential on Desire, I Want To Turn Into You
Polachek's sophomore effort centers on a need for closeness while pushing her sound into the stratosphere
Music
Reviews
Caroline Polachek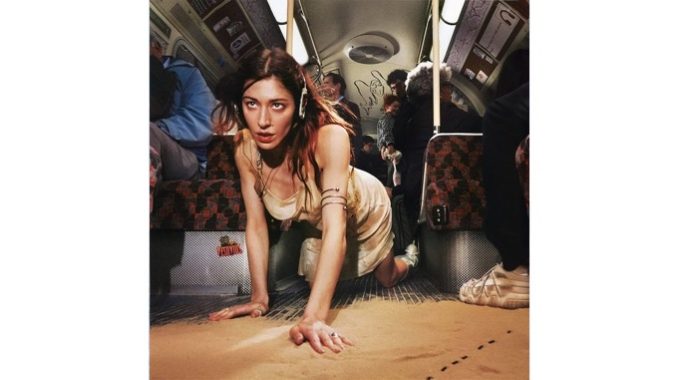 In the wake of Chairlift's dissolution, Caroline Polachek tried her hand at a solo project. After trying out various aliases, she ultimately settled on her own name. Her eventual debut, Pang, dropped in late 2019 and was produced primarily with Danny L Harle. The album, at once modern and bucolic, saw Polachek exploring the joys and anxieties of new love. Across teetering ballads ("Parachute"), indie-pop anthems ("So Hot You're Hurting My Feelings"), and elaborate experiments of songwriting ("New Normal"), it showcased her artistic versatility and the intricacies of her vision. The Pang era would be simultaneously cut short and stretched out by the pandemic, which delayed all touring to support the record until 2021. When that summer rolled around with tours scheduled and festival appearances booked, Polachek and Harle shared a new collaboration between the two of them. That song, "Bunny Is A Rider," was a florid mesh of bird calls, whistling, snaps, and a baby's coo effortlessly molded into avant-pop. The transcendent track clarified the pair were only getting better at their specific pop alchemy.
Now, nearly four years removed from Pang, "Bunny" sits proudly in the tracklist for Desire, I Want To Turn Into You. Polachek's sophomore effort sees her grapple with feeling limited by physical space and by our corporeal forms—she wants not only to be near someone she loves but become a physical part of them. Desire is just as esoteric musically. Its songs pull from genres as disparate as drum and bass, dembow, and flamenco while Polachek and Harle festoon them with baroque instrumentation—bagpipes, church bells, organs, and a children's choir. Its arrangements are intricate and densely layered so that every song reveals itself to you more and more upon revisiting. Even the quiet moments split your attention, like on "Hopedrunk Everasking," where a smoke alarm's low battery chirp pierces the space between Polachek's maudlin delivery. Desire, I Want To Turn Into You is a massive leap forward, and for an artist so focused on orate detail, never falters under the weight of its many parts. It's elegant, revelatory, verbose and fucking catchy.
The closeness Polachek longs for throughout Desire is best expressed on the single "Blood and Butter." Flanked by a Ray of Light-indebted blend of copacetic synthesizers, she pleads, "Let me dive / Through your face / To the sweetest kind of pain." Though it's littered with vivid imagery of linden trees and fire in the sky, the lyrics portray a relationship that needs nothing more than the two of them to be walking hand in hand. Instead of a bridge, "Blood and Butter" lets Caroline's airy vocals fall away; bagpipes fill the space. She reiterates just how close she'd like to get as each chorus falls away: "closer than your new tattoo."
"Crude Drawing of an Angel" depicts Polachek trying to savor a moment. She knows she's about to be pulled away from someone she loves. Amidst a sunken atmosphere and hollow percussion, she is starry-eyed, hurriedly sketching a mental image. When her seraph is gone, she'll have this to remember them by. "Crude Drawing" also contains what is undoubtedly music's most stirring Wayne's World reference. Polachek's voice, a vaporous howl, is interrupted by an obscured, mechanized version of itself; "Camera one, camera two," she intones.
Album opener "Welcome To My Island" cheekily mocks Polachek's own interiority while sounding like the number one song on Uncanny Valley's pop station. Dayglow synths twinkle in the background as she deadpans "Welcome to my island / Hope you like me / You ain't leaving." The only voice accompanying Polachek is a cheerleader chanting backup vocal of "Hey! Hey! Hey! Hey!" cobbled together from the intro of Pang's acoustic ballad "Look At Me Now." She screams the album's title during the chorus with frenzied abandon, and after the sung-rapped bridge, she plays an intentionally bad guitar solo—it's camp! As the song effortlessly blows past big swing after big swing, this overstuffed, maximalist pop song succeeds despite itself. As you leave Caroline's island, an uncomfortably long series of vocalizations ushers you into the skittering stream of consciousness that is "Pretty In Possible." Containing no true verses or choruses, the bizarre track gestures broadly at ideas of potential. As Polachek spouts off lines about Greek mythology and dead bugs languishing in the pool, you're strapped in and pulled along the serpentine melody. In one of the few moments you can catch your breath, she asks a distant question: "How does it feel, you know, being so… rich?" It's never clear whether she's extolling the productivity culture of the wealthy, or offering her Triangle of Sadness-esque critique of it; Somehow the song is great enough for that question to just hang there, and have it not matter.
Fans of Polachek's cover of The Corrs' 2000 hit "Breathless" are sure to be enraptured by "Smoke." A mainstay of her setlists since 2021, "Smoke" appears here with a robust arrangement and a pulsating beat; there are new things to grab onto, even if you've been watching grainy iPhone footage of it online for years. Taking the perspective of someone in denial, choosing to carry on with a doomed relationship, its opening lines are a subtly funny image context. "It's just smoke / Floating above the volcano"—Ignoring a red flag the size of Mt. Vesuvius.
Desire, I Want To Turn Into You ends on its second single, the sumptuous and mercurial "Billions." An ambitious undertaking on an album rife with them, "Billions" is spindly, disjointed, and painted with psychedelic images of headless angels, pearls and a bountiful cup running over. It's one of Polachek's best, and as a final bow, the icy pop track ties up the record's lone loose thread. The vast expanse Polachek feels separated by is folded into every song on this record, whether nodded to lyrically or in the amorphous soundscapes she's built. Though she may not ever be able to close the gap completely, as "Billions" fades to black, she gets closer than ever before. The members of the Trinity Choir play us out, repeating in angelic harmony, a conclusion: "I've never felt so close to you."
---
Eric Bennett is a music critic with bylines at Post-Trash, The Grey Estates and The Alternative. They are also a co-host of Endless Scroll, a weekly podcast covering the intersection of music and internet culture. You can follow them on Twitter at @violet_by_hole.