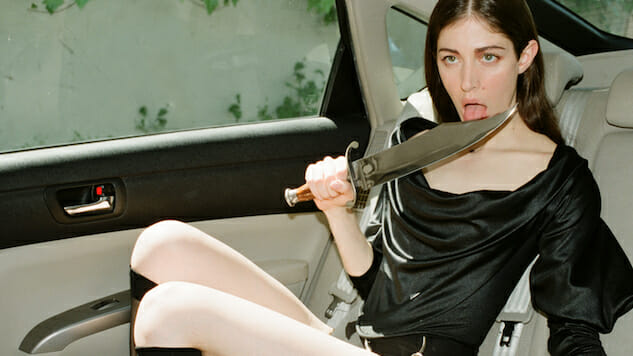 Daily Dose is your daily source for the song you absolutely, positively need to hear every day. Curated by the Paste Music Team.
Caroline Polachek, formerly of Chairlift, is set to release her first record under her own name, Pang, following albums in 2016 and 2017 as Ramona Lisa and CEP. Today (Sept. 16), she announced Pang's release date—Oct. 18—and shared a fourth cut from the record, "So Hot You're Hurting My Feelings." Pang's three previous singles, "Door," "Parachute" and "Ocean of Tears," take her elastic voice to new heights, leaning into an experimental-pop aesthetic with the help of PC Music producers A. G. Cook and Danny L Harle.
After the futuristic flourishes of her last three tracks, it's a surprise that Polachek's newest sounds indebted to the '80s: it's bouncy, bright and wouldn't sound too out of place on a Chairlift album. Like the long-distance lament "Ocean of Tears," "So Hot You're Hurting My Feelings" finds Polachek pining for a lover who seems to be a fellow musician on the road. "Not like I'm counting the days," she sighs, "but it's been 25 / I know you're killing the game, but damn, I miss you tonight." Where "Ocean of Tears" brought the drama, "So Hot" makes her plight into something downright playful, tongue-in-cheek title and all: She blames her partner's overwhelming attractiveness, rather than the circumstances that separate them, for the force of her pain. Pleading with her partner to stop sending her selfies that only emphasize the distance, she explains, "You're making it worse / 'cause you're so hot it's hurting my feelings." Polachek might still be weeping, but this time she's crying "on the dance floor." With a track this danceable, you'll likely be joining her.
Check out "So Hot You're Hurting My Feelings" below and watch Polachek perform with Chairlift in the Paste office circa 2010 further down.