Charli is Next-Level
As its opener suggests, the pop star's third album is far ahead of the curve
Music
Reviews
Charli XCX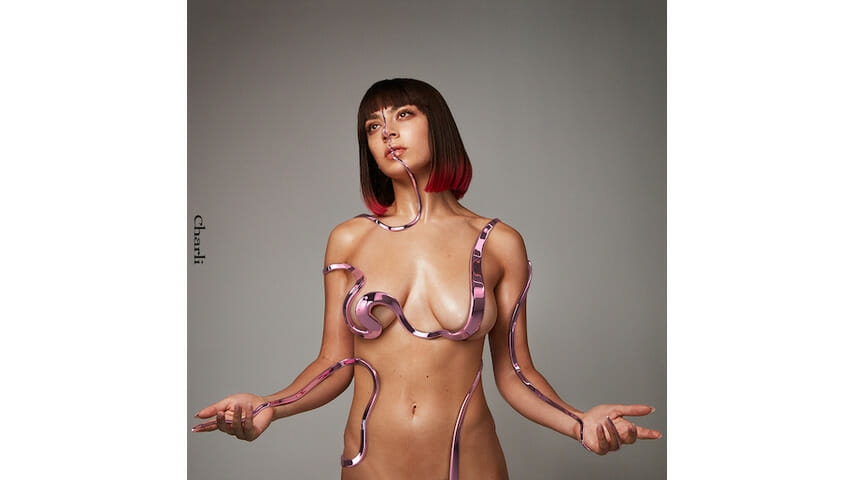 Although Charli is described as British pop auteur Charli XCX's third studio album, it's really her seventh album-length project. Charli has released four mixtapes in addition to her studio albums True Romance (2013) and Sucker (2014), so to call Charli merely her third studio album isn't just deceiving—it ignores the very existence of the quietly revolutionary 2017 "mixtape," Pop 2.
The guest-stuffed, career-peak Pop 2 was a record in all but name. It presented Charli as a savant of futuristic synths, fanged digital programming, actually good AutoTune, and bionic bangers and ballads. Charli executive produced Pop 2 alongside PC Music's A.G. Cook, who helped her fully access the cyborg aesthetic she'd been crawling towards for years.
"We wanted it to feel like a complete restart," Cook told The FADER upon Pop 2's release. If Pop 2 was indeed a restart, then Charli is the thrilling next step on the journey. Across 15 songs and 50 minutes, Charli consistently matches the addictive, robotic bombast of Pop 2.
"Cross You Out," for example, is a warped collage of simultaneously abrasive and ambiguous synth patterns over which Charli and guest Sky Ferreira sing about cutting off former lovers: "When you're not around / I'll finally cross you out." "Click," which features German pop star Kim Petras and Estonian rapper Tommy Cash, likewise boasts glorious messes of joyfully grating electronics clashing with cutesy synth bubbles. The song's final 30 seconds detonate into a robotic rage that contends with the demonic earthquake of underrated Pop 2 highlight "I Got It."
"Gone" closes on a similar note to the gyrating outro of "Click," and its mostly-instrumental outro serves as a prime example of the bodily intensity that even Charli's most android productions can achieve. Even before its outro, "Gone" makes a mad dash for Charli's all-time top songs tier. With clanging, warbled synths slapping with almost violent intensity, Charli and guest Héloïse Letissier (aka Christine and the Queens) trade verses about insecurity and public image: "I feel so unstable / Fucking hate these people / How they're making me feel lately."
Featuring the same three guests as "I Got It" (lascivious rapper CupcaKke, multi-disciplinary artist Brooke Candy and drag queen Pabllo Vitar), "Shake It" makes the case for Charli's inclusion amongst the best pop acts of the decade. Now joined by New Orleans bounce leader Big Freedia, "Shake It" somehow pulls off the miracle of landing a ginormous groove while often acting like Charli's fucked-up take on "The Whisper Song"—yes, that "Whisper Song." It's a complete outlier in the scope of Charli's outsize mecha-bangers, but it's as engrossing as her most thunderous creations.
Of course, the album has no shortage of guests, including HAIM ("Warm"), Troye Sivan ("1999" and "2099"), yaeji and Clairo ("February 2017"), and 2019 MVP Lizzo ("Blame It on Your Love," an EDM-lite rework of Pop 2's "Track 10"). Not that Charli needs guests to write an unforgettable pop song: Opener "Next Level Charli" is exactly that, with Charli spitting braggadocious lyrics with the ferocity of a rapper over gleaming synths and explosive drum programming ("Come on meet me on the highway / Smoke blow and let's race"). "Thoughts" opens with a sound akin to an old Mac starting, a synthetic gulp that gets more wrenching each time it repeats over the song's midtempo click track, which features some of Charli's most distraught lyrics to date ("Are my friends really friends?"; "Ten planes in five days…I'm numb 'cause of the plane / I don't wanna talk / I don't wanna smile"). On "Official," a gorgeous ballad with a synth pattern that faintly recalls Phoenix's "Lisztomania," Charli pens a moving reflection on the tender moments between her and a love interest with whom she wants to go, as the title suggests, official.
Charli rockets down the same hyperspeed lane as Pop 2, and like its predecessor, it's home to a staggering number of unyielding future-pop anthems. "I think it will be a continuation of the journey," Charli predicted of Pop 2's successor in that FADER interview, and she was right: Charli is a more-than-worthy follow-up to arguably the decade's best pop release.