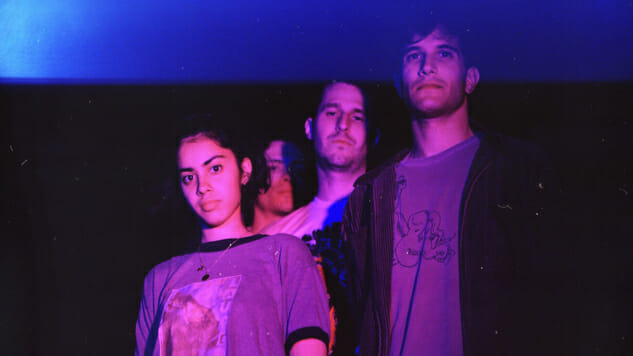 Daily Dose is your daily source for the song you absolutely, positively need to hear every day. Curated by the Paste Music Team.
Brooklyn-based quartet Crumb are getting their morning going with a "Ghostride," the second single from their debut album Jinx, coming June 14. The spacey new song from the 2017 Best of What's Next picks is another alluring preview of their forthcoming first full-length, not to mention their singular mixture of psych-pop and jazz.
Lila Ramani (guitar, vocals), Brian Aronow (synth, keys, sax), Jesse Brotter (bass) and Jonathan Gilad (drums) first came together in 2016, releasing a pair of acclaimed EPs, their 2016 self-titled and 2017's Locket, which they developed and recorded based on a collection of songs Ramani had written in high school and college. Crumb has since evolved into a full-time touring and recording project, which brings us to Jinx.
"Ghostride" opens with a lovely looped riff soon joined by sustained strums, the sort of guitars that sound like the bottom of a cool swimming pool in summer, lit by refracted sunshine. "Come on now, don't let this go / don't let my love fade away," Ramani implores, clinging to a romantic daydream she knows is slipping through her fingers. "Ghostride" itself feels just as evanescent and ethereal—clocking in at just over two minutes, it slips away right when it's wholly won you over. It's beautiful underwater, but you have to come up for air eventually.
Listen to "Ghostride" below. You can revisit the details of Jinx here and preorder Crumb's debut here.