Alice Glass Reveals Years of Alleged Abuse by Crystal Castles Co-Founder Ethan Kath
Photo by Theo Wargo/Getty
Music
News
Crystal Castles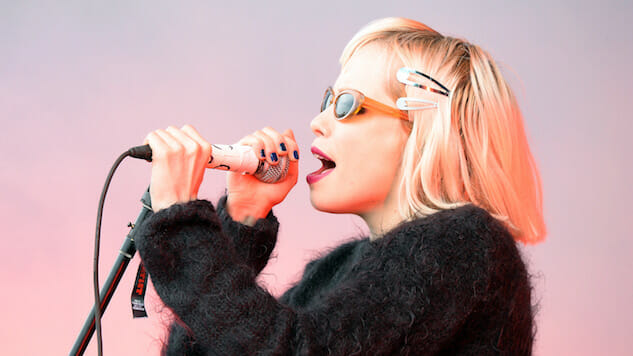 When Alice Glass left Crystal Castles in 2014, she announced via Twitter, "My art and my self-expression in any form has always been an attempt towards sincerity, honesty, and empathy for others." She continued, "For a multitude of reasons both professional and personal I no longer feel that this is possible within CC."
Today, she revealed those reasons in a lengthy statement detailing the years of sexual assault, manipulation and physical abuse from her former bandmate Ethan Kath, whose real name is Claudio Palmieri. "I've been threatened and harassed and as a result, out of fear, I've been silenced," she said, but the momentum of other women speaking up about their experiences with sexual misconduct gave Glass the courage to do the same.
In her statement, Glass recalls the first time that Kath, who is 10 years her senior, took advantage of her when she was 15. Months after the incident, he started stalking her. She described the behavior that she experienced from him after they reconnected:
Claudio was very manipulative towards me. He figured out my insecurities and exploited them: he used the things he learned about me against me. Over a period of many months, he gave me drugs and alcohol and had sex with me in an abandoned room at an apartment he managed. It wasn't always consensual and he remained sober whenever we were together.
Glass said that Kath was also physically abusive toward her:
He held me over a staircase and threatened to throw me down it. He picked me up over his shoulders and threw me onto concrete. He took pictures of my bruises and posted them online. I tried to leave, and he swore that it would never happen again, that he would never physically abuse me again. More severe psychological and emotional abuse took its place.
She also noted the "toxic environment" she experienced at the height of the band's fame, recounting times when Kath would diminish her role as a member of the band. He started controlling everything she did: "I wasn't allowed to have my own phone or my own credit card, he decided who my friends were, read through my private emails, restricted my access to social media, regulated everything I ate."
Glass further described the efforts Kath made to ensure she remained in his control: "He broke glass shower doors to frighten me, he locked me into rooms. He told me that my feminism made me a target for rapists and only he could protect me. He forced me to have sex with him or, he said, I wouldn't be allowed to be in the band anymore."
Glass concluded her statement by noting that although Crystal Castles was everything to her, she had to leave the band, saying, "As difficult as it was, I knew that leaving was one of the best decisions I've ever made. It has taken me years to recover from enduring almost a decade of abuse, manipulation and psychological control. I am still recovering."
Read Glass' full statement here.