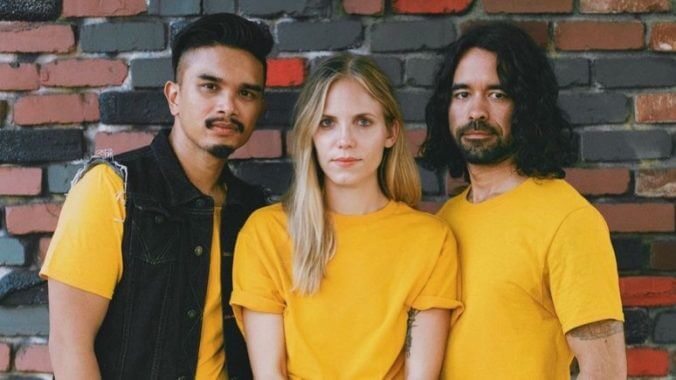 LA band Cuffed Up have recently signed with Hit the North Records and are celebrating with a new batch of singles: "Little Wins" and "Love Is…" After tours with the Silversun Pickups, Militarie Gun, Just Mustard and The Joy Formidable, Christina Apostolopoulos, Ralph Torrefranca and Joe Liptock took big swings at SXSW and Treefort and landed on the radar of fans and industry-heads alike. Their music is heavy and melodic, landing in leagues with Bully and SPRINTS and beyond.
These two new singles are emblematic of Cuffed Up's range. "Little Wins" is an uptempo rock track with power chords and anthemic vocalizations, while "Love Is…" is a balm of slow-burn balladry. Together, they paint a full portrait of the trio's ambitions, and they signal an even bigger 2024. While these two songs are must-listens right now, Cuffed Up must be a band that's on your radar for next year.
Torrefranca says about "Little Wins": "We all set really unhealthy definitions of what "success" is supposed to look like, constantly comparing ourselves to others. We start our own little businesses or throw ourselves into a career with really high expectations only to be met by what we think is 'failure' but it's really not that. It's the lack of grace that we give ourselves because social media has trained us to compare each other's worth, glorifying the rat race of life rather than practicing gratitude. 'Little Wins' is about focusing less on the losses and more on the baby steps that have brought us the success that we have now."
Apostolopoulos says about "Love Is…": "This is a portrait of and a love poem to our high school selves. We trudged along, quiet and observant, with music being the only thing that saved us. Romantic love is a new concept—we're plagued with non-sexual dreams of grazing someone's hand in the hallway, or the ultimate: a first kiss. We have all of the feelings and we don't know what to name them, but it doesn't make them any less real."
Watch Ben Mehlman-directed videos for "Little Wins" and "Love Is…" below.