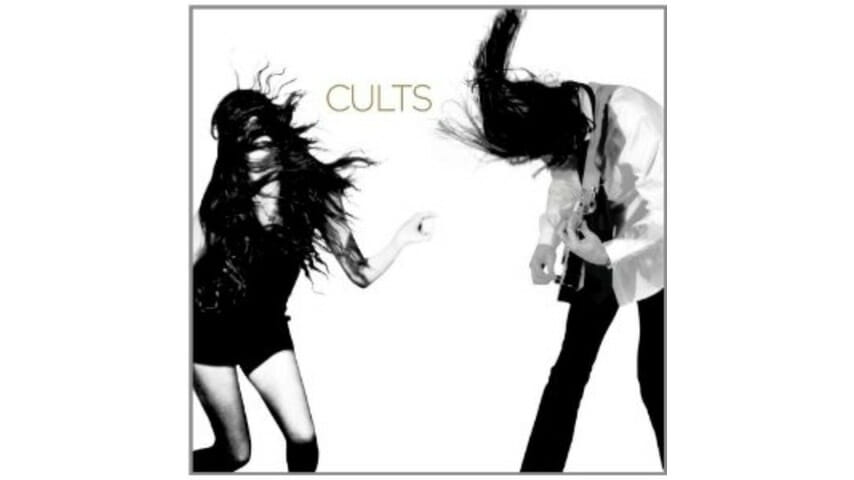 When Cults first received recognition for their summer anthem "Go Outside" last year, it created a relentless hype around them and painted them as an easygoing, carefree duo with an irresistible indie-pop sound. It's an easy label to assign the duo given their inherent upbeat nature—an impression that will likely carry over for many to their eponymous debut LP. But if you look beyond the initial snapshots of Cults generated by their lively and accessible sound, you'll find that this is a band more concerned with exploring sonic textures and rich layering. As a result, Cults is not simply a record mired in instantaneous pop hooks, but one that impressively reveals itself over subsequent spins.
The pair wastes no time getting down to business, busting out with "Abducted"—a roaring blend of frontwoman Madeline Follin's heartrending cries with an ethereal double-time accompaniment. "Go Outside" quickly follows up as the band's loveable, carefree hymn, demanding to be heard over and over like few other tracks manage to do. With these two tracks alone, Cults kicks off its proper debut LP with a brilliantly juxtaposed display of the sweet and the sour, the fierce and the tender range of their work.
The remainder of the record is a continued exercise in pairing overt pop hooks and subtle instrumental layers—one that's not necessarily as lighthearted as their sound indicates. While "Oh My God" stands amongst the most fun and arguably catchiest Cults numbers, it's one riddled in self-doubt and worry as Follin declares, "I never wanted a single thing for my life / All I wanted was to know was to know that I have never wasted my time." "Bad Things" haunts in the most jovial of manners, while "Most Wanted" jangles to the beat of personal vices. Ultimately, Cults is an album that can be enjoyed as either a summer soundtrack or as something with a darker, more concrete substance. How you choose to interpret it is your call, but the beauty of this notable debut is that either way works just as well as the other.