LOVE + POP and the Experimental Metamorphosis of Current Joys
Photos by Bono Melendez and Brittany Deitch
Music
Features
Current Joys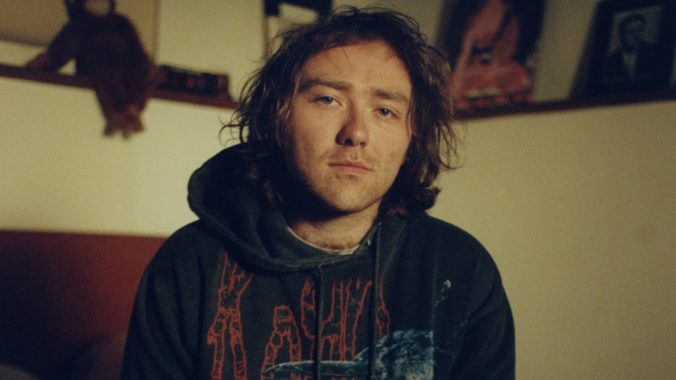 Current Joys' experimental new album LOVE + POP created an online echo chamber months before its full release. Provoked by the unveiling of the album's third single "CIGARETTES," Nick Rattigan's Instagram comment section turned into a roundtable for shocked fans. Having listened to the album in full, believe me, I understand completely. "What happened?" I joke, only five minutes into a Zoom call with Rattigan. He laughs and begins to explain himself with the all-encompassing phrase that his newest Current Joys album was "pilled by modern music." To Rattigan, it's a time capsule of culture and growth.
When I opened my email a few weeks ago to find LOVE + POP in my inbox, I was expecting absolutely anything but Rattigan making a stylistic nod to Lil Peep's "Walk Away as the Door Slams," or an irreverent, nearly 10-minute house track. It unifies DIY influxes of hyper-pop, trap and rap into a whirlpool—Rattigan's signature style is spread across the top of the mixture, blending like acrylic paint and changing hue. Upon first listen I was intrigued, yet I quickly found myself in a state of grieving for the tactile post-punk, evocative indie-rock that has long set a tone for the music of our current generation.
Always enigmatic, full of life and resonant, Rattigan has released nine albums as Current Joys and molded a decade-long stylistic evolution. The project was born in 2013 with his debut album Wild Heart—a sentimental dream-pop soundscape, definitive for your personal coming-of-age narration. Rattigan's music works that followed have only expanded the universe of his own unwavering story of self discovery through pleading vocals, romantic synths and independence. In turn, Rattigan hasn't yet released collaborative tracks with other artists up until this point.
The latest Current Joys sound has culminated into a completely new direction, but an honest one. LOVE + POP contains elements foreign to the beloved distinctive indie-rock we've come to expect from a Curreny Joys record. The project was a completely DIY undertaking, with a little help from friends. "I just went into my basement," Rattigan insists. He meditates on the influences close to his heart. "It started with 100 Gecs. I think that was my entry point into the world of what's happening in music now. Before COVID I was really into 100 Gecs. That was 2019. I saw them at the Moroccan Lounge with my friend Jamie. Everyone there was, like, 15 years old. And we were like, 'this is amazing.' We were like, 'what is this? This is so good.' And I became obsessed with Gecs," he adds.
I am quick to ask, aware of the internet music ecosystem that has opened via 100 Gecs: "So, I'm guessing you got into Drain Gang?"Rattigan picks up speed now, engulfed with passion towards the cloud-rap, modern phenomena that music-loving teens and early-20-somethings can't seem to shake from their obsessions.
"I went and saw Drain Gang, and that was a whole experience," he replies. "I didn't get the music at all. I was always trying to get into Bladee. I had friends who were into Bladee who were way cooler than me. My Friend Nick Minor was like, 'Dude, let's go see Drain Gang at The Palladium, it's gonna be crazy.' He's like, 'It's going to be crazy. Whether we like it or not, it's going to be an experience.' And I was like, 'Yeah, hell yeah, let's go.' The Palladium is this 4000 capacity venue in LA, and it felt like I was going to a Grateful Dead show. But like, for 2022. They're heads. I'm a Deadhead, so I know that culture. Going to the Palladium, it just felt like that PLUR was there. Peace, Love, Unity and Respect. And everyone was dressed really cool. Everyone had their phones out and was filming, but it wasn't an obnoxious thing. It was almost part of the show. People were experiencing the show and, I hate phones [being] out, but everyone was just so excited by this, and you couldn't even see [Drain Gang]. They're covered in smoke. Every song was amazing. Hearing it in that mosh-pit way of a crazy crowd, I got obsessed with Drain Gang [and] went deep into the hole."
Besides 100 Gecs and Drain Gang, LOVE + POP is heavily inspired by other influences Rattigan's worked with throughout the creative process. He mentions his deep dive into the world of Lil Peep, too. After watching the documentary Everybody's Everything, he was catapulted into a frenzy of self-recording in his home studio—mirroring Peep's approach and prompting collaborations (including Lil Yachty, Your Angel, Brutus VIII, Slow Hollows) that felt more than necessary for Rattigan to embody a progressive style.
Following the release of tracks "LOVE + POP" and "My Shadow Life," Rattigan's latest single "CIGARETTES" has sent fans into an uproar—especially in his instagram comments, where they've been arguing vocally about the transformation. The track is hard-hitting with prolific speed, far from the style we know but still rich with hints of the OG Current Joys in there. Rattigan himself has called the track his "most controversial song" yet. I'd argue that the intense lyricism in the sixth track "bb put on deftones" takes the controversial lead, so I can't imagine how fans might react once they have their hands on the full work. "I wasn't going to put ['bb put on deftones'] on the record. It's kinda a cute song, kinda a dark song. You hear a lyric, and you're like, what? Like, the daddy line. I was like, I have to rap. Rappers are so intelligent, it's crazy. It's a whole different brain—so I was like, I have to challenge myself. I have to write a hip-hop song," he tells me.
As a longtime listener who has attached many of my own personal experiences with the tracks of Current Joys' catalog, I've equated "American Honey" to my most painful heartbreak, "Kids" to a summertime Philadelphia roof-top with new friends or "Rambling of a Dying Adolescence" to self-evolution—so I can't deny that it felt initially earth-shattering to watch Rattigan move away from that addictive style. Though, the more that I listened, the more passionate I became by this new taste of his metamorphosis. It all feels so fun, modern, unserious and so very genuine. Rattigan is still in there at the core, 10 years from the start of Current Joys and now glimpsing through his own sonic curiosities with his own take on "internet" music.
While understanding people's gripes with such an intense change, I find it beautiful to watch an artist find excitement in an unexplored avenue for the first time. Listening to Rattigan talk about his inspirations made him just as visibly excited and animated as I was to hear about where his own music came from.
"I'm 10 years older, so I feel like I have a lot more perspective on things and new questions, and I guess this process felt similar [to my signature style], but the content felt different," he says. "I heard this really cool line—I forget who it was, but there was this one rapper who was talking about how he never knew what to rap about. And then someone else was like, 'It's like a diary entry. It's how you feel in that moment.' So I'm sure my diary entries now are much different than they were 10 years ago."
It doesn't take me long to respond, asking which questions resonate with him now and prompt him to indulge in experimentation. "Here's the thing. I still don't like to talk about what my music is about," he answers. "That hasn't changed. I always used to try to hide it in movie references or something, because what I'm trying to convey is so personal that I want to channel it through this other thing. [In] 'Freaks,' I'm using the language of Black Hole, the novel, but it's still a song about depression or longing from myself. But now the questions are much more complex. 'Why do I have so many intimacy issues?' I've learned a lot in the past few years about addiction and how that functions in our society and how it functions in me." When I later message Rattigan for a comment about the controversy surrounding "CIGARETTES," he replies with grace: "All of my favorite movies are the ones that are divisive. If I put out songs that everyone liked all the time I'd be a candy factory, not an artist."
The album closes out with tracks "3lefant" and "U R THE REASON," easing into the perfect coda for a chaotic yet personal album that plays into the highs and lows, before finally culminating into an ending that lets the listener down softly and surely. They are two of my favorite tracks on the album, and feel perfectly reminiscent of Current Joys' earlier sound while still painting themselves in a fresh color like the rest of LOVE + POP, which was Rattigan's exact goal: "I don't want to just make a house track—I want it to sound like it would be me making a house track in some way." Maybe the means to an end for what shape Current Joys has taken has changed, but Rattigan's music remains as impactful as ever. This project is deeply personal, and that truth shines with relentless intentionality.
Watch Current Joys' 2018 Daytrotter session here.