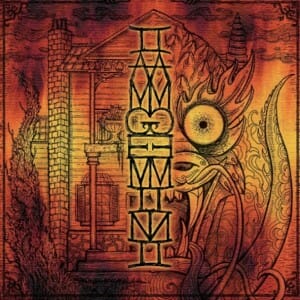 Cursive's always been a band rooted in concepts that were bigger than any of their single songs. It started in 2000 with Domestica, a divorce-inspired concept album that had bitter, convincing lines that seemed too real to not have been influenced by real life. The band followed up with their breakout, The Ugly Organ, which featured liner notes that look a lot more like a script. Happy Hollow's songs loosely tied together a small, close-minded town, and the lyric sheets from their last release, Mama, I'm Swollen, looked like they were torn from some quick-tongued madman's diary.
Twelve years later, the first time since Domestica, the band is returning to telling a story from start to finish, and it's about time. Frontman Tim Kasher has been vocal in his interest in screenwriting and even helped pen 2008's Lovely, Still. And so, branching off that interest, I Am Gemini tells the story of estranged twins Cassius and Pollock. The opening track, "This House Alive," sets up the story: Cassius is a reformed criminal who, after being released from a hospital after an auto accident, finds that he's inherited his unknown biological parents' home. Before long, he meets Pollock, who's essentially been banished to his parents' attic, and after some time together, Cassius finds that his twin is drawing out bad qualities he thought he'd buried.
If it all seems over the top, it is. But that's what makes Gemini's exploration of our own inner evil twins ultimately understandable in this music-only format of storytelling. Kasher has (and always has had) an impeccable sense of connecting an idea to another, whether the ideas range from verse to verse or from polar opposite sides of an album. As a story and journey, Gemini's theme and plot feel complete from Cassius and Pollock's first encounter to the album's fiery, distorted finale.
Musically, the band is at their most adventurous, albeit not their most accessible. Burst and Bloom through Happy Hollow-era Cursive fans should feel right at home with tracks like "Warmer Warmer" and "The Cat and Mouse." And the band's signature parts are still there with those gnarled, winding guitar parts and Matt Maginn's melodic, grounded bass lines. But the exploration of off-kilter changes, funny time signatures and near-metal breakdowns can make Gemini a hard first listen. For Cursive fans, Gemini is best served with time, a sit-down with the liner notes and repeat listens.