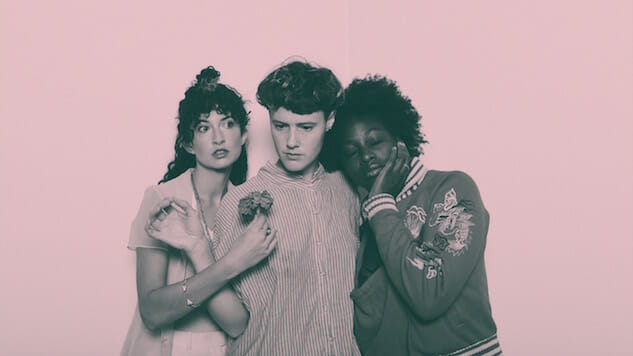 Daily Dose is your daily source for the song you absolutely, positively need to hear every day. Curated by the Paste Music Team.
What is it about personal trauma that brings out such brilliance in people's creative lives? I daren't suggest that any artist need to go through something horrible to make something amazing in the wake of the chaos. There have just been so many examples in recent months of people coming out of the other side of a horrible time and finding focus and recharged inspiration.
That's certainly the case with Kalmia Traver, the erstwhile leader of the band Rubblebucket, and the mind behind the solo project Kalbells. In 2013, she was diagnosed with a cancerous tumor on one of her ovaries. Surgery and chemotherapy followed, and gratefully, she is now free of the disease. But following a busy promotional schedule that came after the release of her band's 2014 release Survival Sounds, Traver took an artistic retreat in the woods of Vermont, spending the better part of two months writing new songs and coming to terms with what her body and soul had just endured. The result was Ten Flowers, a spare, devastating and joyous album that celebrates the power of art, the wonder of life and the pleasures of solitude.
It's to the last element that Traver wrote the song "Alonetime," and created this new video that expresses the magic of me time simply and beautifully. If you like this, check out the whole Kalbells album and look below the video for some new tour dates that sees a full band version trekking around the East Coast and Midwest.
TOUR DATES
11/2 – Portland, Me – Space
11/3 – Providence, RI – Columbus Theater
11/4 – Brooklyn, NY – Babys All Right
11/5 – Washington, DC – DC9
11/8 – Milwaukee, WI – Cactus Club
11/9 – Minneapolis, MN – 7th Street Entry
11/10 – Davenport, IA – GAS FESTIVAL
11/11 – Chicago, IL – SubT Downstairs
11/12 – St. Louis, MO – Duck Room