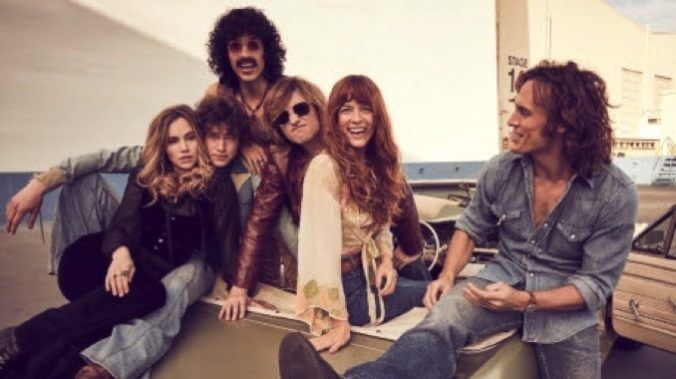 Author Taylor Jenkins Reid created the most legendary '70s band with her best-selling novel, Daisy Jones & the Six. The book details this up-and-coming rock band, The Six out of Pittsburg, and how they moved to LA and aligned themselves with legendary music producer Teddy Price. After having a string of moderate successes, it would seem that The Six were old news until they met up with the songstress Daisy Jones. That's when they unleashed their hit single, "Look At Us Now (Honeycomb)", and took the world by storm. Everyone remembers their multi-platinum album, Aurora, and how those songs forever changed a generation.
Except none of that actually happened because Daisy Jones & the Six aren't a real band.
The music was the most anticipated aspect of the new Amazon Prime Video series, Daisy Jones & the Six featuring Sam Claflin and Riley Keough as the lead singers Billy Dunne and Daisy Jones. It's one thing to be told that a band is fantastic, it's another thing entirely to make that legendary rock band come to life. Reid posted a brief message to streaming services before the first two tracks for the album were released saying, "Daisy Jones & the Six are real and they are better than my wildest dreams." This band would finally come alive, but who would play the parts? How does someone even begin to craft what the band should sound like?
Believe it or not, finding Daisy Jones was the easy part. Riley Keough was determined to get to the place where she needed to be for the singing parts, but for everything else she was confident in her abilities to portray Daisy Jones. While speaking with Music Supervisor Frankie Pine, she revealed that "there wasn't anybody else considered for the role." The more difficult casting was for Billy Dunne. "Billy, however, we went through multiple auditions for that role," Pine told Paste. They were looking for something outside of the acting ability of whoever would play that role, but also the producers were looking for the chemistry between Keough.
Each of the potential actors had a musical audition to showcase what they already knew about creating music. "It was totally intense. I think everybody had to walk into Sound City Studios. The majority of them were actors," Pine told Paste. "Getting in front of a microphone and playing guitar in front of (Executive Music Producer) Blake Mills, oh my goodness." Each of the actor's musical talents and potential was assessed. The producers weren't expecting professional singers and instrumentalists, but they had to be comfortable with some kind of musical instrument.
Daisy Jones & the Six was originally supposed to start production in 2020, and Claflin was cast as Billy Dunne only two months before they were set to start in April. That left very little time to get up to speed on playing the guitar. Well, the pandemic shut down production for some 18 months, and according to series co-writer Scott Neustadter, "everyone kind of went off into their own pockets of the world, but to their credit, they stuck with the music training." Neustader continued, "if we had actually gone in April 2020, there would've been a little bit of movie magic to make this work. But because of their dedication over those 18 months, by the time we shot in September the following year, they were all really tight. It was really kind of amazing to us."
One of the biggest challenges facing the Daisy Jones & the Six team in their adaptation was creating the sound of the band. Neustadter told Paste, "once we had landed on Blake Mills and his group of people, we knew that we were in excellent hands." Mills was vital to developing the sound of the band and created all of the songs heard in the series and on the album. He worked with a group of collaborators including Marcus Mumford, Phoebe Bridgers, Jackson Browne and others to develop the sound. Pine told Paste, "we wanted them to sound like that typical classic rock band from the '70s. More so than just Fleetwood Mac." It's difficult not to see Fleetwood Mac in the chemistry of Daisy Jones & the Six. Reid credited the band as an influence and most of the turmoil that Daisy Jones and Billy Dunne face within the series is a mirror image of the conflict between Stevie Nicks and Lindsay Buckingham in the '70s.
Fleetwood Mac wouldn't be the only '70s act the producers looked at for inspiration. Neustadter tells Paste, "There's a lot of Springsteen in there, Tom Petty, CCR, Joni Mitchell, and Judee Sill was someone who we talked a lot about in the writer's room." Mills had his hand in writing or co-writing every original song that appears in Daisy Jones & the Six, but the one Pine and Neustadter could agree was the toughest to crack was "Look At Us Now (Honeycomb)." Pine told Paste, "there's so much in the book about how integral the Honeycomb song is. And "Look At Us Now" is our "Honeycomb" song. I think we went through multiple versions of that song to get it to where it is today." Neustadter added, "We definitely had a microscope on the Honeycomb song. It's such a crucial aspect in the novel and in our story. We knew it had to be a song you weren't going to get tired of too quickly." Even though 25 songs are planned to be released digitally from the Daisy Jones & the Six sessions during the course of the Amazon Prime Video series run, both Pine and Neustadter emphasized the importance of getting Daisy Jones & the Six signature LP Aurora to as close to perfection as they could.
One of the biggest additions to the series was a more fleshed-out storyline for Daisy Jones' best friend and disco pioneer Simone Jackson (Nabiyah Be). Originally she's written by Reid as a guardian angel-type of character, one that only appears when the plot calls for her. Neustadter told Paste why it was important for her to have her own story, even if it's separate from Daisy's. "New York underground disco in '76, it's a super vibrant and interesting world you don't typically see depicted on television. We were fascinated by it and wanted to spend a little more time with it than we could. [Mills] wrote some unbelievable proto-Disco tracks that don't sound anything like the Bee Gees or Donna Summer." Pine added, "Simone was more around like the beginning of '75. It was a deep dive into those super early bands that created that early disco sound from that time period." Those songs that they created for the character of Simone Jackson ended up taking a lot of time to put together and they were the final songs the team ultimately created.
Original music was important, but to set the proper time period, frequent needle drops were added to the soundtrack. It was often about what were the best songs for that particular moment in the show. One of the strangest needle drops comes later in the series in the form of Fleetwood Mac's "Gold Dust Woman." Paste asked Neustadter about the moment. "That was something our editor did that we all kind of said, "Can we do that?" Neustadter added, "For a while, we were pretending that (Fleetwood) Mac was not a band that existed. Then the song was added in and we all sat there, you get a really interesting learning in quality when that song is playing at that moment. And we decided, fuck it, we're going with that song because it's just perfect."
Getting Daisy Jones & the Six from the pages of the novel to a flesh and blood band took a lot of work. Not only was the chemistry important for the band to feel real, but the music had to be there as well. Pine, Neustadter, and Mills were only a few of the people who worked tirelessly to bring Daisy Jones & the Six to life. "Every show is different. This show required original music. It's about finding those perfect pieces of music that really help tell the story," Pine added. With Daisy Jones & the Six, it was about creating the most iconic '70s band you've never heard of and for the most part, they pulled it off.