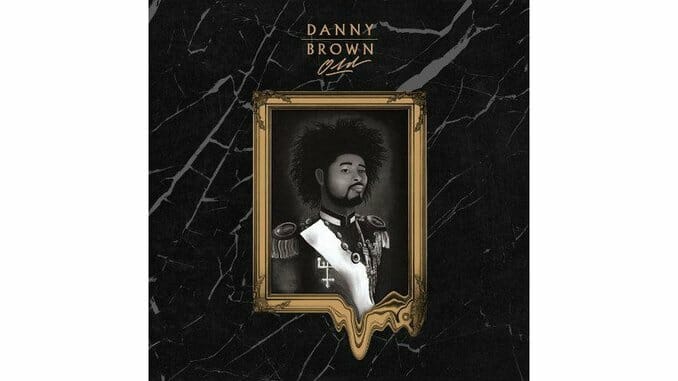 Danny Brown is a funny guy. Some might see the missing tooth, the long messy hair, the tongue sticking out of his mouth and the infectious smile, and cast Brown as rap's goofy class clown. But, even the most cursory investigation into Brown reveals that he's not just funny; he's hysterical. Seriously, watch the Over/Under he did on Pitchfork. Little is better than those few minutes with Danny Brown.
Brown's lively performances and tendency to play his features more for laughs than for insights (unless you count the observation that a woman's hoo-ha smells like "a penguin" as an insight) has led to disparate views of the rapper, with the initiated well aware of the talent he possesses and cloaks behind stoner humor and misogyny, and others seeing him as a cultural meme, a media creation serving the purpose of entertainment until his schtick becomes old.
It's also funny that Danny Brown has named his first proper album Old. The follow-up to the free download XXX, Old dispels the shallow views of Brown and paints the rapper in a humanizing and relatable way, with enough bangers and one-liners to not bury the appeal of his personality. More than ever, Old allows even passive listeners to care about what Brown is saying, to form a bond with him and to trust there is more of interest to him than women and drugs.
On "Torture," Brown talks about the horrors of the events he's witnessed, "probably need a shrink, can't get a wink, so I smoke a lot of kush and pop a Xanax to sleep." The striking thing about his story is how it isn't neglect of parents or a childhood of crime that leads Brown to see such violence and sexual exploitation, but that it is more of an unavoidable reality of his circumstances, of growing up in Detroit as he did. Immediately following, "Lonely" shows the fallout of such a life, his ambition to be more than a drug dealer and user, and the depression that sticks with him. "Nobody really know me," Brown repeats.
After Old, we know him a little better. Not that the content of the rhymes hadn't been discussed before by the artist, but to do so on such a large scale, risking losing his young fans by going to serious, is brave and the act of an man determined not to squander his opportunities. That said, the goofball humor and objectifying women are still there, which alone might be enough to rule out some potential listeners.
Making it through the captivating labyrinth of Brown's childhood and journey to the microphone, the listener is rewarded with straight club-ready party jams, with the run of "Smokin & Drinkin'," "Break It [Go]," and "Handstand" acting as an over-the-top adrenaline shot meant to cause smiles as big as Brown's. With collaborations featuring Purity Ring and Charli XCX, lyrical nods to The Bends, and a persona that isn't feigned tough-guy, Brown is certainly playing for a different audience than, say, Chief Keef, but he has wound up producing an album that transcends much of the typical hype bullshit and seems destined to stand as a unifying record, leaving no one asking for Danny Brown's resume when he receives his share of the spotlight, making his sense of humor an ingredient rather than the whole meal.