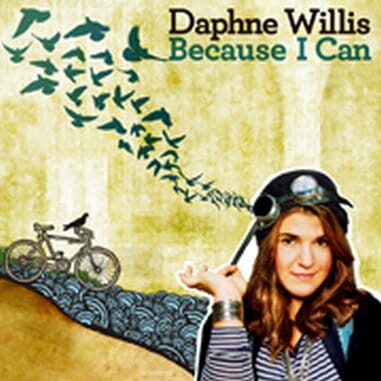 Daphne Willis delivers a fun and refreshingly smooth pop album, heavy with jazz, rock and soul influences.
Because I Can offers Willis the opportunity to show off her vocal capabilities, as she casually struts her stuff throughout the tracks as if to say "no big deal." Her laid-back performance is complemented by lighthearted, breezy songs.
"Shake It Off", an up-tempo, horn-heavy jam, leads off the album and sets the tone for a funky release full of toe-tapping songs.
Throughout the album Willis explores relationships in their various stages. "Spit It Out" and "Circumstances" discuss the end of relationships and moving on, and "Sad" focuses on just how hard that can be. Her songwriting skills stand out, as she uses imagery to convey the pain of a relationship that is over, "red, the shade of wine, the color of your voice when you said goodbye."
"I Will Be Waiting" is all about dealing with being apart from that special someone. It speaks to the middle-school girl in me and is perfect for bouncing around and belting out along with Willis as she sings, "I miss the way you fill in the spaces/and I miss us in our favorite places/And I miss you, the way we turn the pages/And I will be waiting." It is an adorable song that playfully tugs at the heartstrings of romantics and everyone else.
"Weatherman" and "I Want To" deal with the beginnings of a relationship, and how holding onto someone can take just as much convincing as when it is time for letting go. There is the spirit of a fighter, and Willis is obviously someone who is willing to fight for love.
Her fighting spirit is evident in the other songs on Because I Can. "Do What You Want" and "Is Anyone There" address the issues of who to be and how to fit into a world with high expectations and fleeting relationships. She encourages to listeners to "be anything as long as it is real."
"One by One" is written in the same vein. Willis croons about changing her ways one-by-one and working her way from the bottom back to the top. The soothing strength in her vocals makes you believe that things will get better, not only for Willis but also for whatever hardships the you may be working through.
Surprisingly, the album ends on a softer note. Throughout her work there is a constant theme of strength and self-empowerment. The tenderness of "Slow Down" gives listeners a glimpse at the more delicate side of Willis.
A catchy and cheerful sophomore effort, Because I Can is enjoyable but leaves us wanting a little something extra. Potential is a double-edged sword, and with all of Willis' talent we can't help but expect more. This record is fun to listen to, but we're already looking toward what she will create next.