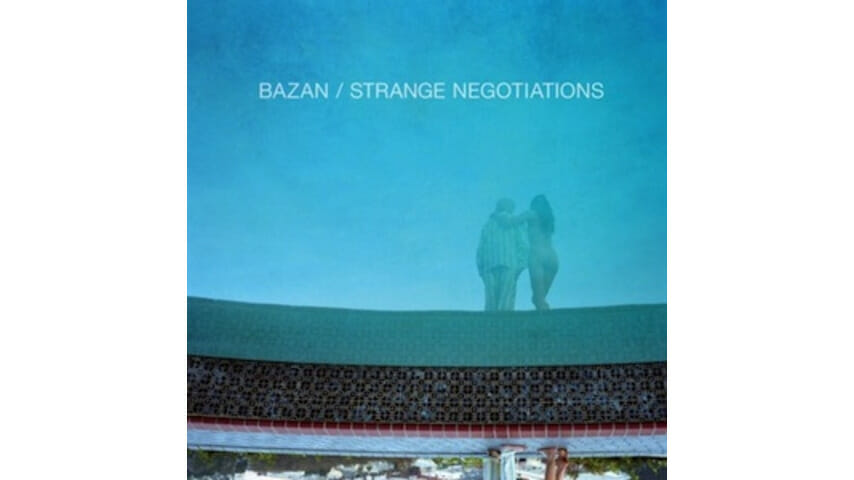 Faith no more, but plenty of heart
David Bazan's well-publicized quarrel with Christianity reached a breaking point with 2009's Curse Your Branches, the sound of one man's Dark Night of the Soul translated to searing indie folk. With his former band Pedro the Lion, Bazan frequently took on the role of musical prophet, turning out five albums of thoughtful, theologically-oriented songs. But with Curse Your Branches he shed his prophetic mantle, stuck out his chin, and took on his critics, his obsessive fans, and nothing less than the Almighty in emotionally charged, confrontational terms. The resulting album was as messy as any breakup album ever recorded, and as masterfully conflicted and musically intense.
The press release for his new album Strange Negotiations states that David Bazan has moved on. If he hasn't exactly mellowed, then he's at least cast his vision wider than the tattered remains of his faith. And it's almost true. Opener "Wolves at the Door" skewers American corporate greed, and the title track ponders the contentious, fractured nature of what passes for current social discourse. But like many singer/songwriters, Bazan is at his best when he's focused on the personal, not the topical, and the acerbic, sorrowful lamentations on Strange Negotiations show that the old wounds are far from healed:
but man you've gotta find the truth
and when you find that truth don't budge
until the truth you found begins to change
and it does i know i know
That's how he characterizes the dilemma in "People," a whisper-to-a-scream dispatch from the front lines of the recently agnostic. Bazan wraps these barbed observations in overdriven, distorted electric guitar, and the power trio format he employs here offers a surprisingly rootsy, earthy take on what could easily come off as ethereally intellectual kvetching.
But that's not who David Bazan is. His beliefs may have changed, but his songwriting has always featured a remarkable honesty, a discomforting vulnerability that is equal parts hard-won wisdom and self-loathing. And if "Eating Paper" is the typical Bazan swipe at those who are critical of his newfound beliefs and attitudes, "Don't Change" is the flip side of that belligerence, and turns the usual "you're perfect just the way you are" schmaltz that one expects from the title into a dark confession about his own inability to escape self-destructive habits. He remains one of the most nakedly confessional writers since the Laurel Canyon heyday of Jackson Browne and Joni Mitchell, and he rocks a lot harder than both. And if this new album finds him still licking his wounds, adrift in pain and confusion, closer "Won't Let Go" may point the way forward in affirming the solid anchors of his wife and children. Strange Negotiations is a messy album chronicling a messy life. The conflict is still very much in process, superbly illuminated by wry observations, stellar writing, and raw rock 'n' roll.