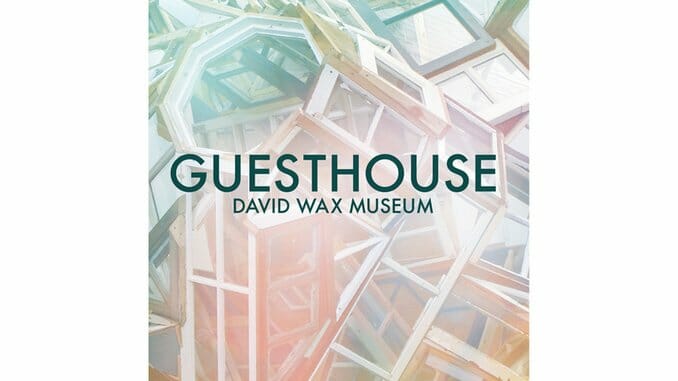 David Wax Museum began in the mid-aughts as a musical project inspired by Mexican-American song traditions. Singer David Wax had studied in Mexico in the early 2000s and integrated some of those musical practices and ideologies into his own compositions. And with musical partner and multi-instrumental mastermind Suz Slezak, the David Wax Museum became known for its use of Mexican instruments like the jarana (a stringed instrument similar to a guitar) and the quijada (a donkey jaw bone used for percussion) and more, as the duo sang songs structurally based on American folk tunes.
But things have changed for David Wax Museum. By now, Wax and Slezak are married with a toddler. Their sound together has changed, too. Guesthouse, the band's fifth LP since 2008, takes a much more straightforward approach to music of the folk-pop variety. At their most poppy, like in the acoustic guitar-picked duet "Time Will Not Track Us Down," Wax and Slezak could be She & Him or The Civil Wars or The Swell Season. Really, they could be any other guy-girl duo pairing pretty voices and singing songs together.
Guesthouse gets interesting when Wax and Slezak experiment, though. Ballad "Singing to Me" begins as a sweet ballad between husband and wife before an experimental slide guitar interlude distorts into spacey wavering. A rapidly strummed ukulele propels "Young Man," a song based off a conversation with Scott Avett about professional ambitions, while an electric guitar line meanders like the antithesis of the song's message. And later, the accordion stands out on "Blood Jump," which itself jumps with a ragtime-influenced piano solo that degenerates into a squealing mess of feedback before sauntering back into the final verse and chorus.
Still, the band excels when it's blending sounds from all over the world. The title track best hearkens back to the Mexo-Americana sound that defined them, with countering rhythms and brass blasts. An Irish-sounding flute solo even dances through "Guesthouse" and songs like the similarly mixto "Don't Lose Heart" and "Everything Changes." Highpoints like these show that David Wax Museum is at its best when its roots are in sight (or earshot), even if those roots come from cultures.