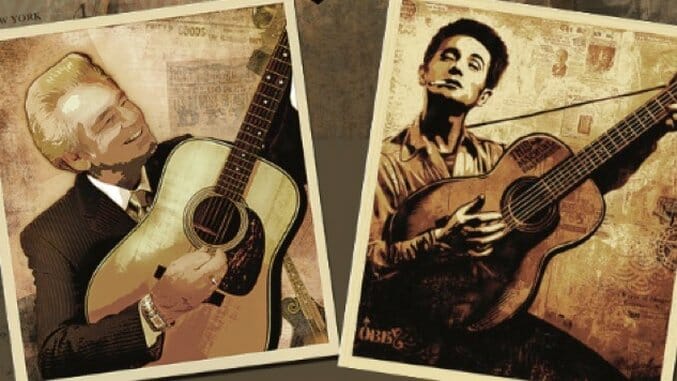 No matter how many reviews you read that ballyhoo the just-released Del and Woody, you won't appreciate its brilliance until you hear it.
Although Nora Guthrie, daughter of the iconic Woody, brought her father's unfinished songs—lyrics, really—to bluegrass great Del McCoury, she credits destiny for joining the two musical forces. She points to the resulting album that is as much McCoury as Guthrie and nothing short of groundbreaking.
"That was my emotional reaction before I thought of this project because Del is the kind of guy he is. He's the kind of people Woody grew up with in Oklahoma," she says. "They were part of the bedrock of popular culture, of popular socialism. [Del] could easily be my uncle, a member of my family."
Indeed, "The Grand Master," as Nora Guthrie calls McCoury, is one of the few musicians she's ever met who shares the same musical sensibilities, style and soul as her father. (For evidence of this, check out his excellent Daytrotter session.) Despite his dozens of awards including Grammys, his much-coveted membership in the Grand Ol' Opry and his must-attend annual Memorial Day weekend DelFest that features some of the best Americana artists in the world (this year's festival includes Tedeschi Trucks Band, Bruce Hornsby & the Noisemakers, Railroad Earth, Aoife O'Donovan and many others), he is one of the most respectful and self-effacing musicians in modern music.
"I've always known how talented my dad is, and this proves it again. I can't tell you how proud I am of him," says Ronnie McCoury, the award-winning mandolinist who is at the apex of his dad's band. "The biggest names in music—from Bruce Springsteen to Bob Dylan—were influenced in some way by Woody's music and for [Nora and Arlo Guthrie] to choose my dad to finish them is just mind-blowing. I am just so proud to see all of the accolades that have come to him."
Almost as soon as Nora Guthrie heard McCoury's music—which is as strong, exquisite and vital as those by artists decades younger—she knew that he was a kindred musical spirit to her dad. Perhaps that's why McCoury felt such an affinity for the 26 songs he was given, 16 of which he recorded and mastered. The album contains 12 of those songs.
"Nora had a show in Tulsa in memory of her dad, and I was out with my band, and Tim O'Brien was with us," McCoury says. "At the end of the show she came over and told me 'If my dad could have afforded to have a band, he would have loved to have had a band just like you have got.'"
That's when Nora Guthrie asked if he would complete some of her dad's songs. Although he felt somewhat reticent to take on the task, he couldn't resist.
"I said 'I will try,' and she sent me the songs…and I realized it was a lot easier than [I had anticipated]."
Although people always think of Woody Guthrie as a folk artist who wrote and performed protest songs, Nora Guthrie insists his music was much more nuanced. That type of "hillbilly" music is something she can't explain to most people. But Del needed no explanation.
"Del understands that type of music, he plays that type of music, he is [one of the few modern] masters of that type of music," she says. "I listen to Del and I think of my father's voice…everything about Del is so similar to him…They all drank the same water, they all saw the same things, they all had the same vision."