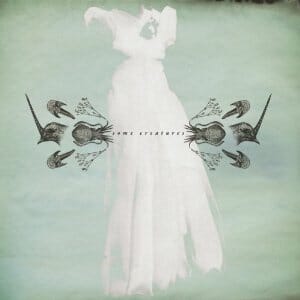 This Birmingham, Ala., band takes its name from a Throwing Muses song, which took its title from the term used to describe mentally ill young people who gave themselves shallow cuts. Delicate Cutters frontwoman Janet Simpson shares with Kristin Hersh a penchant for detailed, lived-in lyrics and a steely charisma. More crucially, the group unsurprisingly fills its songs with references to deep emotional scars, often alluding to harrowing events just off camera—as if they can't bear to confront them too directly.
Following their self-released 2006 debut, We Are Not Lovers, Delicate Cutters return with Some Creatures, which reveals an increased confidence due perhaps to several years spent touring the southeast. They sound sharper and more nuanced, drawing from disparate folk and rock influences to craft inventive arrangements that hew closely to Simpson's incisive songs. She can make a dark phrase like "I always thought that I might die" sound like a rousing chorus on opener "Picture of Health," and turns "He's in Los Angeles now" into a barely composed eulogy, making the title city sound like limbo. Avoiding flagrant confessionalism for narrative detail, Simpson can project anger or irony or uncomfortable intimacy with equal ease, but more than that, she simply projects a personality on Some Creatures, reminding you that every song derives from a single, unique perspective.
The band backs her subtly, with Kevin Nicholson's fiddle adding flourishes to most of these songs. Like The Head and the Heart and The Civil Wars, Delicate Cutters draw inspiration from American folk forms, yet they show a wider musical and emotional palette than many of their contemporaries. "Me and the Birds" begins as a ragtime jaunt, but grows increasingly tense as the song builds to a calamitous finale. "Lovers Don't Leap" crafts a complex chorale from a simple turn of phrase, but sounds as direct as a Fairport Convention tune. Occasionally, the production robs these songs of their impact: Instead of an authoritative stomp, "Let's Be Free" moves with a hesitant lurch, which stumbles when they move into that sweeping chorus. But despite such technical flaws aside, these Cutters come across as anything but delicate.