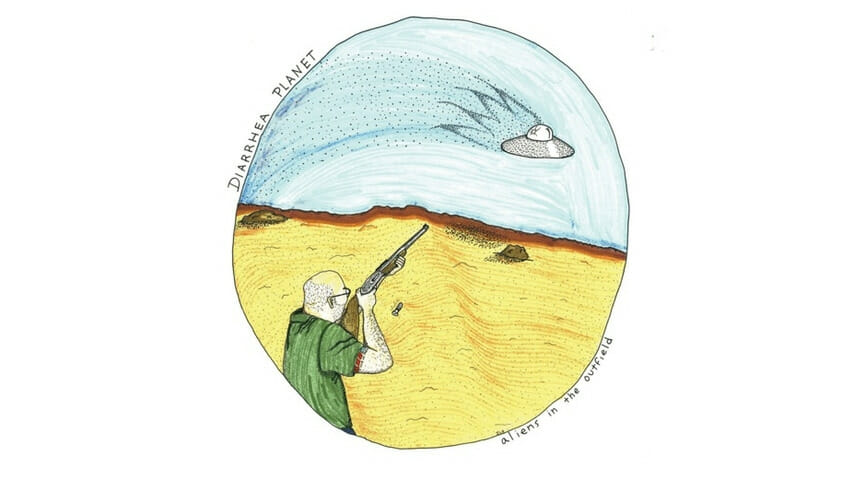 The only thing more ballsy than naming your band Diarrhea Planet is having four lead guitarists front your band called Diarrhea Planet. Returning after last year's bombastic, pop-punktastic LP I'm Rich Beyond Your Wildest Dreams, the Nashville-based sextet offers another five tracks to satiate fans before another full-length record due out in 2015.
This EP, Aliens in the Outfield, is Diarrhea Planet's third since 2009, and the band doesn't drastically change its sound on it. The six dudes still play hissing, guitar-tapping rock 'n' roll solos full of pinched harmonics and furious drumming that make you head bang, crowd surf and share sweaty mosh pits with hundreds of other people in a room that's too small for all of you to be doing the same thing at once. But with only two whole albums to their hilarious (and admittedly preposterous) name, the band can still revel in its position of capitalizing on that formula.
Because part of the genius that distinguishes Diarrhea Planet from other bands that are just loud stems from its ability to establish a narrative arc within the squealing, squelching, belching party rock. Aliens in the Outfield includes a reworked version of the palm-muted "Spooners," which originally appeared as a stand-alone track on Adult Swim's Singles Series earlier this year, as well as "Heat Wave," a live show favorite that received a studio treatment worthy of excessive speeding on the highway. But "Platinum Girls" exposes elements of self-deprecations even as the four guitar lines nimbly alternate taking the lead and build each other up above the others. And closer "Peg Daddy" dials back the metronome and the distortion a few notches to address a softer, lonelier escapism. If Aliens in the Outfield serves as any indication, Diarrhea Planet should continue to melt faces while still infusing subtle lyricism into their shredding three-minute jams.