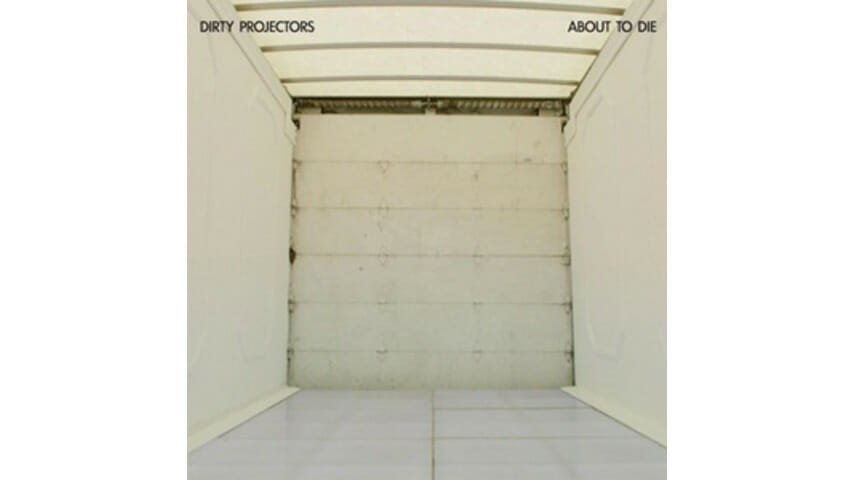 In an interview with Paste leading up to the release of the excellent Swing Lo Magellan earlier this year, Dirty Projectors' songwriter Dave Longstreth indicated that he had "70 ideas" and "40 finished demos" from a year spent holed up in a previously abandoned house in New York's Delaware County. Twelve of these became that LP, but simple math leaves quite a bit of unaccounted material that seems destined to turn up in some manner.
Enter the About to Die EP, the first subsequent offering from the band, standing as a humble collection of three previously unreleased tracks and the Swing Lo Magellan standout for which the EP is named. Closing out a year for the critically adored group that also included the premiere of their short film Hi Custodian, About to Die runs the risk of seeming like an afterthought; a few b-sides pressed on vinyl to promote a new single after the band had completed their more pressing artistic endeavors. But, anyone who has followed the career of the Dirty Projectors could attest to how seriously Longstreth and company take their craft, and About to Die is no different, standing slight only in its length and providing another win for the band's nearly blemishless record.
As Longstreth told us, the selection of songs that comprise Swing Lo Magellan aren't necessarily the best ones of the 40 he had to choose from ("I think a lot of the songs from that era are fucking good"). Instead, creating the album rested on finding a set of songs that work as a unit despite being written as stand-alone entities, and About to Die's four songs wear their individuality like a badge of honor.
"While You're Here" is Longstreth at his most lyrically direct and when he recently debuted the track on his Twitter with the information that the song was dedicated to TV on the Radio multi-instrumentalist Gerard Smith and written on the day of his wake, any ambiguity in his words was exchanged for a communal gesture that any who mourned Smith can appreciate. Most commendable is the clever arrangement, with string orchestration used as the sole backing element to Longstreth's lyrics, underscoring the content with just enough drama and dignity to keep the song away from over-sentimentality.
"Here Til It Says I'm Not" and "Simple Request," don't match this same emotional punch, but both see Longstreth tapping into classic rock influences to create songs that could stand comfortably beside any of their LP counterparts. The former features a rock star moment in the blast of the chorus, showcasing a muscular and uninhibited band that can be playful and indulgent with regards to rock and roll conventions. The closing track changes direction again and shows Longstreth informed by psych and garage, displaying a song that relates to their current musical contemporaries more noticeably than is typical.
And, of course, there is the previously released title track, which seems to gather all of the band's defining elements (unconventional percussion, notable female harmonies from Amber Coffman and Haley Dekle, Longstreth's rapidly oscillating vocal tics, earworm hooks) and provides lyrical content to use as a lens for viewing the EP as a whole. Dwelling on austere subject matter like existential gloom, insignificance, futility and even death, "About to Die" displays a distinct lightness in the face of it all, even toying with horror film paradigms to make these big ideas scary in a more tangible way. Possible connections surface in the new tunes, with "While You're Here" also taking a turn away from what could be an existential crisis of the soul, this time in the loss of a friend, and instead choosing to focus on life rather than death. Even the title of "Here Til It Says You're Not" touches on a certain inevitability of existence, and the lyrics refer to the "destruction" that can come from of staring into the "void."
But, searching too hard to find a unifying theme defeats the project the band's current material. In focusing on the shift from lofty concept albums to the act of writing stand-alone songs, the output impresses both lyrically and musically, and the continuity of players is sufficient to tie it together. About to Die manages not only to seem vital in comparison to the other Dirty Projectors' art projects of this year, but also stirs hunger for the 25 other songs from these sessions that will hopefully see an eventual release.