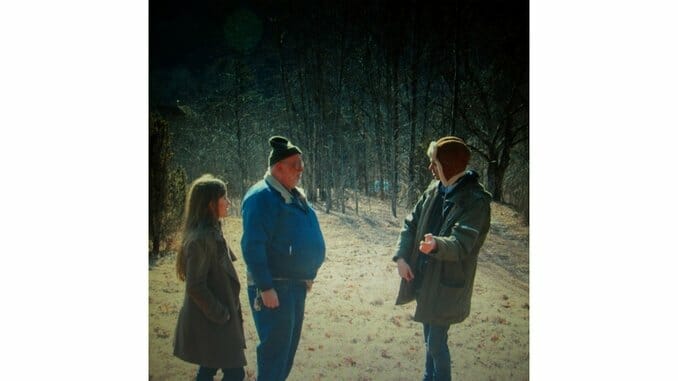 Dirty Projectors have a history of creating delightfully grandiose records full of complex, sprawling arrangements and bizarre concepts. But where do you go after marking "suicidal Don Henley rock opera" and "Black Flag debut re-imagined from 15-year-old memory" off your musical to-do list? For Projectors' frontman Dave Longstreth, the answer was simple. And as is often the case, the simplest answer proved to be the best one.
For the group's sixth album, Swing Lo Magellan, Longstreth decided to take an approach that focused primarily on songwriting. Rather than trying to make every track work under an overarching theme, the songs on Magellan were crafted individually and with care. Each tune is perfectly capable of standing on its own, and there is a lot of diversity in the music, but the record still manages to feel whole as a work of art in itself.
Right from the start, the album captivates. "Offspring Are Blank" kicks off with humming and handclaps before a hip-hop bass beat turns the track into a groove. Longstreth clears his throat before laying down his cryptic lyrics. "Your words were like rain drops from a storm in a vase," he later sings. "About to Die" is equally strange and just as mesmerizing. Who knew a song about impending death could sound so upbeat? "Maybe That Was It" is easily the strangest song on the record with a tempo that seems to imitate a struggling steam engine and a guitar part played on strings that are detuned mid-note, while "See What She Seeing" is obviously influenced by recent collaborator Björk with its warped instrumentation, drum-and-bass backdrop and tiny trickles of dubstep.
The album certainly features a good amount of the avant-garde stylings the band has become known for (intricate vocal melodies, peculiar guitar lines, skittering time signatures), but Magellan also contains what must be some of the band's most straightforward material. The album's title track, for example, is a beautiful number composed of a steady drum beat, subtle bass line, acoustic guitar and Longstreth's trademark vocals. "Impregnable Question" likewise takes the simplistic approach, anointed with just the right amount of vocal harmony in all the right places. Both numbers take on an almost Beatle-esque quality, the former being particularly reminiscent of "Two of Us" with its nostalgia for the road.
With their previous release, 2009's Bitte Orca, the group managed to reign in their sometimes brilliant/sometimes insane/sometimes both creativity and channel it into a more easily accessible package. On the new record, the reins have loosened up a bit. The songs still feel focused, but there is an openness to them. Listening to Swing Lo Magellan feels more like sneaking up on the band in the midst of an intense rehearsal, rather than the group coming forward and saying, "Look what we've made." It's not that the album feels unfinished, but it's certainly unguarded. The result is something very endearing. It's a distinct change of procedure for a band that always seems to be very calculating even in their madness.
The source of Swing Lo Magellan's charm, for it truly is a charming collection, is that it's a record that doesn't try be anything other than exactly what it is. The album's closer, "Irresponsible Tune," is a haunting ballad that falls somewhere between a roots recording and a hymn. Longstreth sings like an evangelical preacher, but instead of crooning about "marching in the light of God," he proselytizes about music, singing, "In my heart, there is music. / In my mind is a song. / But in my eyes, a world crooked, fucked up and wrong." How's that for unguarded? It's not pretty, but it's direct and honest and unafraid to stand naked for the world to see its scars.