The Dixie Chicks Still Not Ready to Make Nice on "Gaslighter," First New Single in 14 Years: Listen
Their new album Gaslighter is out May 1
Photo by Philippa Price
Music
News
Dixie Chicks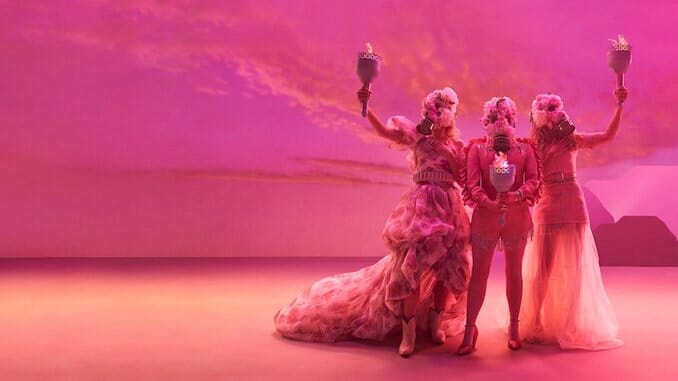 After teasing their imminent return last week on Twitter, the Dixie Chicks are finally back. Martie Erwin Maguire, Emily Erwin Robison, and lead singer Natalie Maines have returned with grace and grit following an appearance last year on Taylor Swift's "Soon You'll Get Better" and a resulting return to the Billboard charts. Watch the video for their new song "Gaslighter" below.
If they didn't already have enough of these already, "Gaslighter," the lead single and title track from their new album out May 1, is another anthem for women scorned. Seventeen years after they were shunned from the country music institution (and popular music at large, at least for a while), this single is almost too good to be true. It's a revenge track, a breakup song and a souped-up, banjo-featuring country banger all in one. "You're sorry, but where's my apology?" they sing. Not only are they chastising a low-down scoundrel for getting himself into this mess, but they're also calling him (and everyone in the music industry who ostracized them all those years ago) out with every gun blazing: "You made your bed and then your bed caught fire," they sing. It's the same spirit of "Goodbye Earl," but with a post-#MeToo edge. The song arrives with a punchy music video à la the Unbreakable Kimmy Schmidt opening credits, full of gussied-up black-and-white footage, edited internet memes and plenty of pink power.
Gaslighter was produced by Jack Antonoff and is out May 1 on Columbia. The video was directed by Seanne Farmer and, per a press release, "depicts the militant strength of women through the centuries and the unbreakable bond they create through any of life's unforeseen circumstances." Sounds about right.
Watch the video for "Gaslighter" below, and/or listen on DSPs right here. When you're done letting out the resulting screams of joy, stick around for an entire Dixie Chicks concert from 1998, which you can listen to below via the Paste archives. Keep scrolling for the "Gaslighter" single art. Pre-order Gaslighter right here.
"Gaslighter" Single Art: