Donald Glover Opens up About His "This Is America" Music Video, Portraying Lando Calrissian
Images via RCA Records/YouTube
Music
News
Donald Glover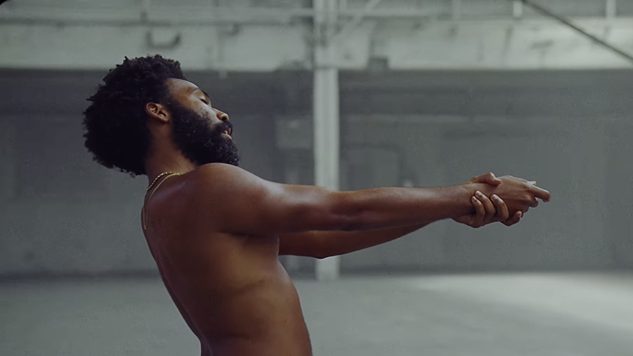 No name is more potent right in media currently than that of Donald Glover. Fresh off hosting Saturday Night Live and wrapping up season two of Atlanta, Glover is now being heralded for his impactful music video and track "This Is America." The video has inspired more opinions and thinkpieces than perhaps even the internet can contain, and is quickly being viewed as his masterpiece. He's so present and prevalent that it's almost possible to forget that he's also portraying Lando Calrissian in the forthcoming film Solo: A Star Wars Story.
Glover appeared on Jimmy Kimmel Live on Thursday night and opened up just slightly about the video and the discussion it has spawned online, though he has steered clear of the internet in the wake of its release. "Some friends have sent a couple [pieces], but, to be real, I haven't been on the internet since Thursday night before Saturday Night Live," said Glover, adding, "It's bad for me, I'm really sensitive … I see one negative thing and I track that person down. I go to their Instagram and be like, 'You're not so great. That baby's not even that cute!"
It's at least more than he revealed when asked about the meaning of the video by E! on the red carpet at the Met Gala on Tuesday. "I just wanted to make, you know, a good song. Something people could play on Fourth of July," Glover said with a grin.
While it's unlikely that Glover will ever completely explain his thought process and the meaning behind his video, his performance and songcrat as Childish Gambino have done plenty to impart what the song and video mean through the art alone.
During his appearance on Kimmel, Glover also spoke about the significance of landing the role of Lando Calrissian, both to him and his father. "I told my agent, like, 'If they're making a Han Solo movie, Lando's gotta be in it, and I want to be Lando … he was like, 'I don't like your odds.' Which was awesome because I was like, 'I'm gonna get this.' … I just really wanted to be [Lando] because he was my first toy, and I just loved that character," said Glover. He was able to bring his father, a huge Star Wars fan himself, to the film's desert set during the production as well. "We just got to walk through it and hang out," said Glover.
Check out Glover's appearance on Kimmel below.