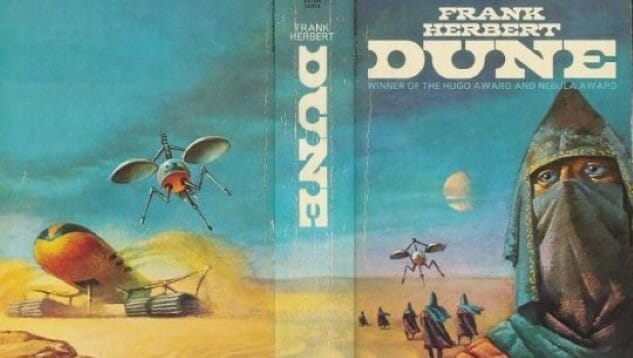 Frank Herbert's Dune is the kind of genre-defining work that has as large an impact upon the world of science fiction as J.R.R. Tolkien's The Lord of the Rings has upon fantasy, so it's no exaggeration to say that there are a lot of nerds out there waiting with baited breath for any kind of news revolving around Denis Villeneuve's film adaptation. Previously attempted by David Lynch in a semi-successful, famously weird 1984 film starring Kyle MacLachlan and … Sting … the most successful (and certainly the most faithful) adaptation to date was actually the Sci Fi Channel's 2000 TV miniseries Frank Herbert's Dune, and it's follow-up, Children of Dune.
Suffice to say, fans are excited to see what a visionary director like Villeneuve can do with a story he has such passion for, especially after seeing what he did with Ridley Scott's Blade Runner universe. Today comes news that may be reason to get excited: Villeneuve's Dune adaptation will officially come to us in the form of not one but two feature films.
Villeneuve had previously stated that his desire was "to make two films, maybe more" in terms of adapting Dune, so we can at least feel confident that this isn't a case of studio meddling, as in the decision to stretch The Hobbit into an unending, three-movie death march. Dune is simply such a convoluted, sprawling story that is demands two films to tell—not to mention that Villeneuve is probably acutely aware of the criticisms that were lobbied at the running time of Blade Runner 2049. Says the director:
"Eric Roth has written the first draft and then I worked on it on my side. I have not had such fun creatively since Incendies. I wish I could direct both movies at the same time but it would have been too expensive. We'll do them one at a time."
So there you go. Now we just have to hope that the budget for Dune is a reasonable one, and that the first film proves reasonably successful. Few things would be more crushing than Villeneuve not being able to finish his Dune adaptation just because the first film isn't the box office cash cow its producers are hoping it will be. It could end up being Jodorowsky's Dune all over again.
The director has stated that he intends to begin pre-production on the film "soon," so stay tuned for future news bulletins on what will surely be one of the most anticipated sci-fi movies in recent memory.