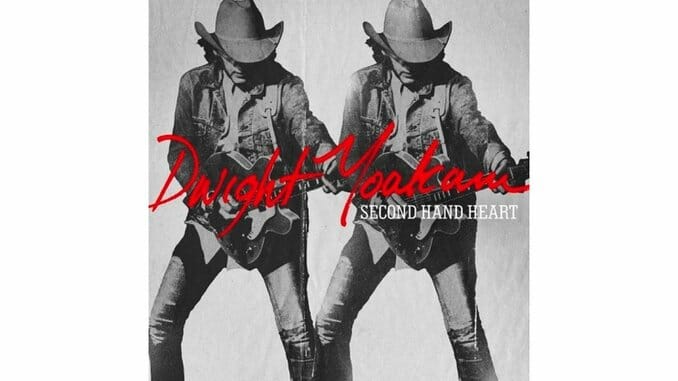 Nearly 30 years into his career, Dwight Yoakam has little to prove to anyone. Country radio has long since lost interest in the throwback honky-tonk sound that the 58-year-old has held true to all this time, nor is he going to get a courtesy invite to shake things up on the stages of Coachella or Lollapalooza. That hardly seems to matter to this Kentucky-born legend.
Even with the invite in recent years to add a taste of old-school authenticity to Eric Church's bombastic arena tours, he's doggedly staying the course. And from the sound of his new album, he's moving the needle back to his days in the California music scene of the '80s where he would share the stage with likeminded storm-bringers and shit-kickers X and The Blasters.
Second Hand Heart is put together like a great live set. He and his razor-sharp road band kick things off with two barnburners—the stomping "In Another World" and the Byrds-ian "She"—followed by quick dips into balladry, a dancefloor-ready waltz, and other peaks and valleys that draw you in, push you back and leave you sweaty and blissful at the end.
The album also realizes that rare goal of gaining steam and strength as it carries forward. Yoakam and company stuff the back end of Second Hand Heart with the hottest burning cuts like his rockabilly take on the now standard "Man Of Constant Sorrow" and "Liar," a wailing British Invasion-inspired rave up/kiss off. Even the album closing ballad, a cover of Anthony Crawford's despondent "Vs of Birds," smolders so that you feel like you could light a cigarette off its heat.
With many artists of Yoakam's age and in his similar position, the release of a new album seems almost perfunctory, something to keep the bean counters at their label happy while they head out on the road playing nothing but old material. There's no such sentiment with Second Hand Heart. Even if Yoakam is still using his songs to sift through the wreckage of broken relationships' past, he's doing it with a still-blazing fire in his belly and a huge grin barely hidden underneath his Stetson.