EARTHGANG Invites Us to the Fantasy of Mirrorland
The anticipated duo's debut studio album is an incisive look at the fair and foul city of Atlanta
Music
Reviews
Earthgang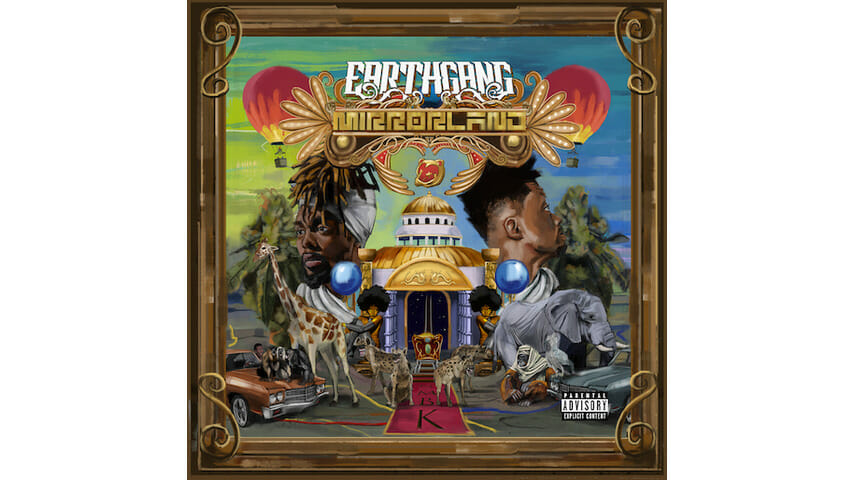 The world isn't as safe as it used to be, and the media isn't sugar-coating it for you to be able to better digest it. Atlanta, glowing on the outside with fancy new tech centers, a long history of Black mayors and civil rights excellence, is full of increased unemployment, homelessness and violence. Global warming is real and an exponentially growing threat, and people aren't making ends meet with their 9-to-5 jobs anymore. This is the backdrop for Mirrorland, EARTHGANG's debut album.
EARTHGANG, consisting of Atlanta-based rappers Olu aka Johnny Venus and WowGr8 aka Doctor Dot, have been together since their time at Mays High School in 2008 on Atlanta's Westside. They later went to college together at Hampton University, where they began to collaborate with J.I.D, with whom they founded Spillage Village, later including the likes of Hollywood JB, 6LACK, JordxnBryant, and Mereba. EARTHGANG released their first two independent albums through Spillage Village itself in 2013 and 2015.
The duo's sound is a kaleidoscope of musical influences, each somehow existing at once. Their flow is easily traced back to Andre 3000 from Outkast, typically rapping over bluesy funk chords straight from a Southern Baptist church, even adding in occasional jazz vocal scatting and trap-rap production that only a southern hip hop act could truly pull off. EARTHGANG's sound is wide and the duo is talented, routinely using their musical acumen to tackle some tough topics in Mirrorland, their first major label album with Interscope and J.Cole's Dreamville. The record overflows with ideas, and they ultimately should have been a bit more judicious when helping select the tracklist here: This should be much shorter.
Album opener, "LaLa Challenge," starts with Johnny Venus acting as the narrator of this fair and foul Mirrorland, where "Everybody Trappin / Everybody Hard" and "One in ten is gangsta / Hardest in the yard." The story eventually transitions into an interlude featuring a disgruntled femme customer ordering chicken wings, a snippet of what life is like in this burning world. But not everything is as simple as grabbing fast food: "Another white man scared / Another black man dead / Another rich man war / Another red man dead," sings and shouts a gospel choir. No one is really safe in this world, even the folks who have degrees and jobs.
On "Bank," Doctor Dot sets the stage for how they are surviving in their fast world, by making money and making fun of the haters: "I turn you to Swiss for the cheddar / I do this shit for my ancestors / Like fuck your parameters / I push the boundaries / Your bitch gon' fuck me 'cause I'm who you tryna be. " Johnny Venus quickly jumps in with "Ooh, shit, look at him go (Go) / Keep, Keep, Keep, getting momentum (Vroom), Beep, beep, get the fuck out the way / Keep, keep, keep all the way to the bank." Full of bravado, the duo is well aware of the societal pressures on them—they're just trying to be themselves in a world that's trying to tell them otherwise. The duo is contemplating the complications of their newfound fame, but they leave their listeners with more questions than answers.
As Mirrorland progresses, it revisits the same emotions over and over again—the second half feels like a retelling of the A-side. At 14 tracks and an almost hour run-time, this album could have been quite a bit shorter and still managed to showcase the duo's talent by cutting some of the fluff. Rap is no stranger to the short album—just look to Pusha T's DAYTONA or Earl Sweatshirt's Some Rap Songs, all from the past year—but EARTHGANG goes a bit overboard here, particularly with their collaborations. They've previously knocked it out of the park on this year's Dreamville record with J. Cole and an assorted group of Atlanta's upcoming best, while Mirrorland's "Proud of U" with Young Thug is a highlight, but this album gets bogged down by its features, especially towards the end when they invite T-Pain, Kehlani and more onto the tracks. It only further adds to Mirrorland's bloated feel.
EARTHGANG, though extremely talented and wide-ranged, use Mirrorland to tell a narrative that might lose listeners before they finish a full listen through. Mirrorland is a southern hip-hop (specifically Atlanta) record through and through, and some of the references ("I'm flying down 285, but I'm so focused" from "Top Down," for example) may go over the heads of listeners outside of Georgia. But its eclectic jazz and funk production serves as a great introduction to the new class of rappers on the come up since OutKast, almost 25 years since Andre 3000's "The South got something to say!" statement during his acceptance speech from the '95 Source Awards. OutKast pushed Southern hip-hop to the same heights as East and West Coast rap in the '90s, EARTHGANG is continuing to do so today.