Watch Donald Trump's Weird Cameo in Video By Russian Pop Star at Center of Scandal
Trump's connections to influential Russians on display in Emin Agalarov's 2014 video
Music
Features
Emin Agalarov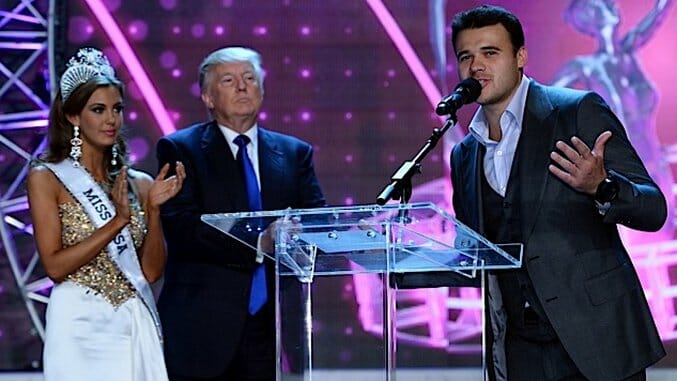 This week's revelation that Donald Trump Jr. met, and may have collaborated with, a shady Russian operative during the 2016 presidential campaign offered the most damning evidence yet of a joint Trump-Russia effort to derail Hillary Clinton's campaign.
No one has yet been able to connect the president himself to the Russian influence scheme, but as this music video proves, he has definitely conspired with the Russians to peddle some seriously questionable shit.
Here's the skinny: Emin Agalarov is a Russian pop star with minimal talent and, if his song "In Another Life" is any indication, an inadequate budget for paying songwriters to help his career along. If that were all there was to say about him…it would be good news for Donald Trump. Alas, Agalarov has a much more interesting backstory. His father, Aras Agalarov, is a Moscow real-estate tycoon with close ties to Russian president Vladimir Putin, according to the New York Times. The elder Agalarov also has ties to President Trump, having partnered with the Big Orange to stage the 2013 Miss Universe pageant in Moscow. And to complete the circle, Agalarov Sr. and Trump Jr. also "worked together to bring a Trump Tower to Moscow," though those plans fell through.
It gets weirder. It was the younger Agalarov, the Times reports, who hatched the June 2016 meeting between Russian lawyer Natalia Veselnitskaya and Trump Jr.—a meeting that also included Jared Kushner and then-Trump campaign chief Paul Manafort—at Trump Tower in New York. Are the Agalarovs so enamored with Trump that they want him to be president of the United States? Apparently, yes. (That's Trump pictured top with Emin Agalarov at the 2013 Miss Universe Pageant.)
That, amazingly enough, brings us to the criminally stupid video for Agalarov's 2014 banger, "In Another Life," in which the scion doses off during a boring board meeting (as if anyone could sleep with that bargain-basement EDM going on) and awakens in a dream where he is surrounded and chased around by several frisky beauty-pageant contestants. He also sits down to play a piano when there is clearly no piano being played in the song. So far, so good. But just as Agalarov is starting to enjoy his dream full of pageant beauties (which is probably how his waking life normally goes), he is jolted awake by the sound of the entire world's nightmare.
"Wake him up right now!" blares Trump, who has suddenly appeared at the head of the boardroom table in what, until yesterday, would have been a confusing cameo. "What's wrong with you, Emin? Emin, let's get with it. You're always late. You're just another pretty face. I'm really tired of you. You're fired!"
If only it were that simple for Trump and the Agalarovs now.