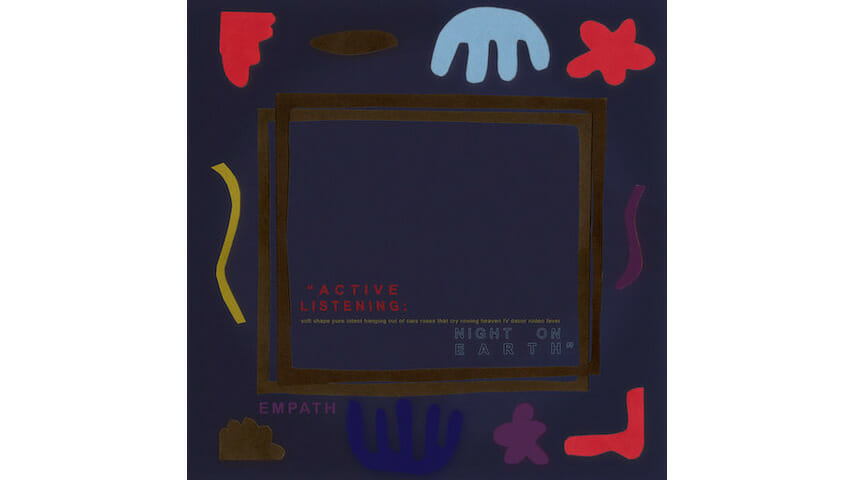 Philadelphia noise-pop outfit Empath make music that's both nebulous and lucid. Their 2018 EP Liberating Guilt and Fear made Paste's list of best EPs of the year thanks to tracks like "The Eye" and "No Attachment." Their first release collected the best of noise-punk harshness, bubblegum pop melodies and avant-garde sonic flourishes—each making up an integral part of Empath's sound. Their debut album Active Listening: Night on Earth, released this month on DIY label Get Better Records, is further proof that you can achieve the highest highs of pop via unconventional musical vehicles.
They draw on deep-set emotions via amorphous ambiance, luminous pop synths and washed-out vocals that range from spitting punk to twee pop. On "Soft Shape," rhythms prance alongside recordings of crickets or birds (or possibly both) and a jarring, spacey synth as lead vocalist Catherine Elicson delivers contemplative, dreamy observations ("Memories feel more like life than what I feel here"). Their lyrics don't just sit atop of the noise with the sole purpose of curating a vibe—they're made of intense, shapeless viscera, carving sharp, poetic deliberations out of commonplace words but evading cliches.
"Pure Intent" opens with squirmy guitars as Elicson's adrift vocal delivery and slightly maniacal tone occasionally call to mind Iceage's Elias Bender Rønnenfelt. "Hanging Out of Cars" is one of their poppiest moments, but after 90 seconds, it descends into spoken-word noise mystique; a translucent recording that sounds like you may have accidentally channelled eerie radio interference from the ether. Somehow fits right in. With celestial synths, grimy drums and even grimier guitars, "Roses That Cry" is a dusty noise-pop climb. It's a glassy rumination on cynicism, maturity, vulnerability and social awareness. Elicson sings, "Out of the clutter comes your life / Clumsy and bare nowhere to hide / Don't waste your time judging kindness."
"Rowing" goes full throttle with speedy rhythms, shouted vocals and wonky guitars. Its propulsive instrumental chaos is a punchy, rousing listen that undergoes several metamorphoses. Possibly a follow-up to their EP track "III," "IV" is an intangible web of otherworldly slowcore synths and various nature blips. Empath are nothing if not for their ability to push sonic, musical and lyrical envelopes. "Decor" sees Empath at their most emotionally potent. The slow, delicate refrain "Nothing changes where you've been" may sound like an obvious and not-at-all profound statement, but surrounded by a marching, minimalist drum beat and synths that rumble and gleam, it feels like an emotional earthquake.
Active Listening: Night on Earth is a both resplendent listen and an acquired taste. Not every listener will take pleasure in the band's blustery dissonance, but those who do will be rewarded with dense pop riches and deeply poignant, poetic lyrics.