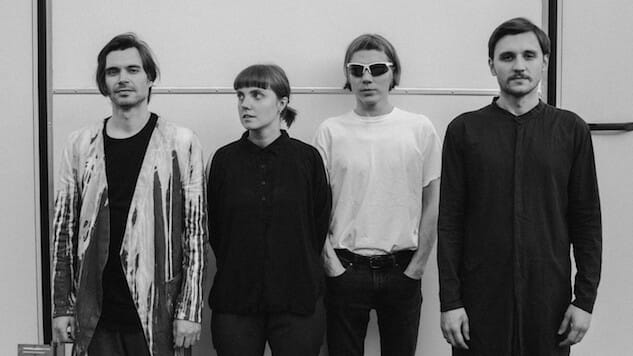 Experimental music is often used as a vessel for transcendence or catharsis. It's a safe space that protects artists from the preconceptions or typical parameters of mainstream art. It allows for total, nonjudgmental expression, and though it largely exists on the fringes and in relatively small, devoted cult followings, its existence is vital to the artists and the people who consume it. Billboard recently revealed the 10 highest-charting rock songs of the decade, which included a wash of Imagine Dragons, Twenty One Pilots and other not-so-rock guitar acts. Essentially, it's a weird time to be a rock band, so whether you're a more traditional "rawk" group or a DIY noise outfit, it's easy to feel ignored by mainstream culture. Despite having to go against the grain, experimental rock bands still find ways to amass sturdy followings. More challenging bands like black midi, Empath and The Spirit of the Beehive have all received recent critical praise and fierce devotion from blogs and message boards. Instead of tooting the tired horn of "guitar music is dead," 2020 seems like as good a time as any to celebrate some of today's most perplexing guitar bands. Ranging from fairly accessible to more difficult to swallow, here are 10 experimental rock bands who continue to push the envelope.
1. black midi
If you've read any 2019 album-of-the-year lists, then you're familiar with black midi—the young South London band whose music exploded the minds of music critics and nerds alike. They possess unbelievable technical skills, but they also have a strange allure that helps bring their dramatic vision to life. Their debut album, Schlagenheim, is one of the most inventive guitar records in recent memory, and their improvisational live shows have to be seen to be believed.
2. Empath
Philadelphia outfit Empath might be the only band whose music functions perfectly in an unruly punk setting, but also sounds like it was birthed in a marsh at night time. It's tranquil and delicate, but also abrasive and hard to contain. Their debut album, Active Listening: Night on Earth, is just as fascinating as their previous material—their tempos are mystifying, their aesthetics are odd but familiar and they exude just the right amount of arty intrigue.
3. Gnoomes
Gnoomes (pictured above) infuse spacey shoegaze with cold techno and brisk krautrock, and the Russian band's latest full-length, MU!, offers a much more meaningful and unique psychedelic experience than most. Per a press release, MU! was made after the band "locked themselves in an old soviet radio station with analogue synths," and it completed their album trilogy, which began with 2015's Ngan!. Marked by therapeutic vocals, marching drums, blooming synths and fuzzy guitars, Gnoomes make reality much more blissful.
4. Gong Gong Gong
Chinese guitar-and-bass duo Gong Gong Gong achieve so much with so little. Their minimal post-punk, which features Tom Ng singing in native Cantonese, may appear grim at first, but underlying their bare droning is a bluesy energy and an appreciation for pop structures. After arising from Beijing's underground scene and later touring internationally with the likes of Parquet Courts, Flasher and Bodega, Gong Gong Gong have established themselves as one of punk's modern innovators.
5. Greys
Four years ago, I probably wouldn't have included Toronto punk band Greys in this list. There were experimental inklings in their two 2016 releases, Warm Shadow and Outer Heaven, but they finally threw out the rulebook on their 2019 album Age Hasn't Spoiled You. You'll find noise-punk, post-rock, electronic and psychedelic drone wrapped up in a beautiful and shadowy package, but it's not without moments of accessible anthemics either ("These Things Happen," "Arc Light").
6. Have a Nice Life
Have a Nice Life have been releasing music for a little over a decade now, but no experimental rock list feels complete without this band. The Connecticut duo of Dan Barrett and Tim Macuga dropped their debut album, Deathconsciousness, in 2008, and it was a punishingly dark, double concept album that could hardly have a stronger online cult following. The band returned with their third album, Sea of Worry, in 2019, and their fusion of ambient drone, post-rock and shoegaze continues to cut deep with an agonizing attention to detail.
7. No Tongues For Quiet People
Kalamazoo quartet No Tongues For Quiet People bring both enthralling precision and harsh dissonance to post-hardcore and punk music. Their 2020 debut album, Joint Fortune, is filled with unexpected arrangements, and with each track, it becomes harder to crawl out of their winding soundscapes. The arc of their incisive guitar work, which ranges from tender acoustic strums to ferocious, distorted solos, is hard to predict—you never quite sure whether they're going to meet you with a buzzsaw or a disarming hug.
8. Snapped Ankles
Snapped Ankles might technically be from London, but their Twitter profile lists their location as Epping Forest, a stretch of ancient woodlands between London and Essex. This fact would seem strange to anyone who hasn't seen photos of the band dressed as bulky brown and green trees. They may dress like Scooby Doo villains onstage, but their electronic post-punk is as boisterous and enjoyable as it is surreal. Their 2019 sophomore album, Stunning Luxury, is a must-listen for punk fans or anyone who enjoys wonky, off-beat art.
9. The Spirit of the Beehive
The Spirit of the Beehive are one of Philadelphia's best kept secrets. The quintet's latest full-length, 2018's Hypnic Jerks, melds psych-pop, punk, noise and drone, and while their studio recordings curate pacifying worlds of shadows and shimmers, their live shows are surprisingly vigorous. It's this mix of escapism and confrontation that makes them impossible to ignore. Their songs provoke stark reactions, and they're the perfect antidote to mindlessly dreamy music and unremarkable bedroom pop.
10. Tangents
Bands often use strange terms to classify their music and distinguish themselves from others, but a tag like "post-everything" is beyond me. That's how a Bandcamp bio describes the latest record from Australian five-piece Tangents. Their 2018 LP, New Bodies, is an immersive and emotional experience. One moment, you get firecracker free-jazz cymbals, then the next, it's bold strings, electronic beats or subtle electric guitar lines. Tapping into everything from jazz, post-rock and dub music, Tangents' improvisational and instrumental compositions will soothe the soul.