Watch Fever Ray's "To The Moon and Back" in Preparation for Imminent New Album Plunge
Image via Mute and Rabid Records
Music
News
Fever Ray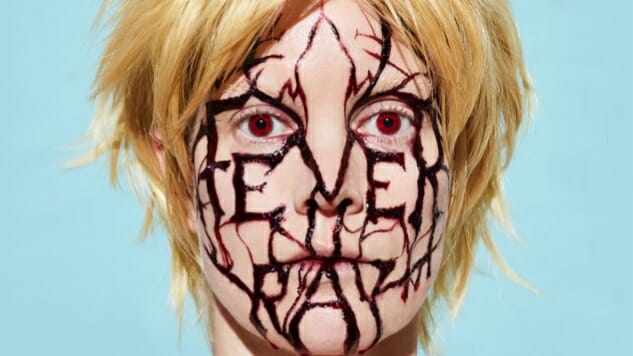 Come hither, sweet futurist babies, or, "I want to run my fingers up your pussy," as Fever Ray sings on new single "To the Moon and Back," which dropped a few days ago and will appear on her forth-descending album Plunge, streaming tonight at midnight.
For those new to the blessed illness of her music, Karin Dreijer (one half of the electronic duo The Knife, along with her brother, Olof Dreijer) is Fever Ray, and Fever Ray is glitter and grace. The last time we featured her was on a list titled "15 Music Videos For Halloween That Aren't Michael Jackson's 'Thriller'," if that gives you any grounding.
The Knife disbanded after their last album Shaking The Habitual, but Plunge is Dreijer's first solo album in eight years.
You can watch the video for "To the Moon and Back," directed by Martin Falck, below—it features some cryogenics and a city of post-apocalyptic sexual bondage, both of which tie in nicely with Plunge's grander themes. In a statement regarding the album, Fever Ray proclaims, "The decision to fall is harder than the fall itself." She also included the most verbose, otherwordly Tinder bio we've ever read:
Listen! I'm looking for a girl who stands 10 feet tall and has teeth like razors; I'm looking for a girl who could play the bored receptionist in the lobby of the afterlife, crossing the river of forgetting every morning and evening and back into the world of the living, where I will wait with flowers and an assortment of adult toys. Could this be you? I'm looking for a girl to affirm my reality, or cancel it. Me: I am beautifully dressed. I am a reflective surface. I am the president. Welcome to my body, my building, the border. The escalators only go up. You get down again by throwing yourself off the roof. And the song's refrain there to catch you if you're lucky. Listen! Sex is work, love is work, work is sex, work is love, the magical conversion of "is" given impossible power by its delivery in music. We have travelled together these minutes and years now and I am hopeful that we have finally solved this complicated problem of how to become … Even now at my age, preserved as an example in this perfect slab of ice, can you believe I am still waiting to become real? I had a plan for how sex or at least some kind of heartfelt physical intensity could save us but I threw it off the roof along with the body and it fell into the silence that limns the edge of the song.
The "e" sound throughout "To the Moon and Back" is in electro-theme—along with light and constant drum machines, it propels you forward towards a starry-eyed state of being. "I've been busy working like crazy … your kiss is sweet and creamy," Fever Ray sings, with all that is encompassed in the word "ecstasy."
If today is a good day, it looks like Friday, Oct. 27 will be even better. In addition to streaming at midnight tonight, Plunge will be available in vinyl and CD formats on Feb. 23 via Mute and Rabid Records—you can preorder it here. Fever Ray is set to embark on a tour in 2018.
Plunge Tracklist:
01. Wanna Sip
02. Mustn't Hurry
03. A Part Of Us
04. Falling
05. IDK About You
06. This Country
07. Plunge
08. To The Moon And Back
09. Red Trails
10. An Itch
11. Mama's Hand
Plunge Album Art: