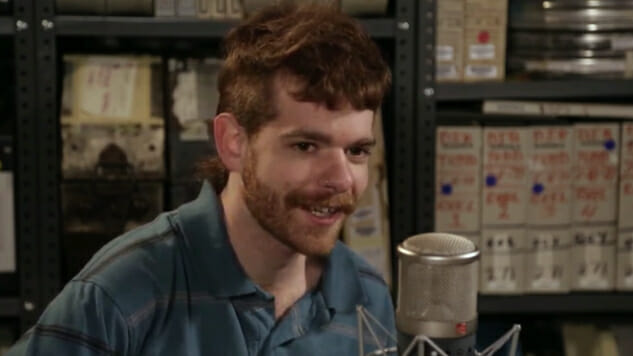 Field Medic debuted two new songs live at the Paste Studio in New York City from his forthcoming album fade into the dawn, due April 19 from Run For Cover Records.
The stripped-down, three-song session featured accompaniment from a slightly functional boombox and the full charm of Kevin Patrick's art-forward, indie-rock project for the debut of his new tracks "hello moon" and "songs r worthless now," as well as previous Daily Dose pick "henna tattoo."
In addition to his Paste Studio session, Patrick also released the official music video for "henna tattoo" on Monday.
Patrick said of the self-directed video:
For this music video, the label offered to hire someone to make a more 'professional' video than I've had before, but I decided instead to use a little bit of the money to buy another camcorder (my sixth) and a gigantic green screen and some lights and do it myself as I have done for the last few years. Directing and producing music videos has always been an integral part of this project. In the beginning of 'Field Medic' I was focused more on making music videos than playing shows.
Watch Field Medic's Paste Studio session below, and jump down to see the DIY-inspired video for "henna tattoo."