FKA twigs Shares Surreal, Self-Directed "home with you" Video
Images courtesy of Adama Jalloh, Young Turks
Music
News
FKA Twigs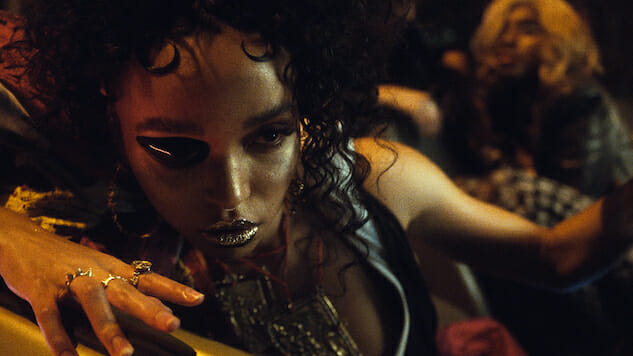 FKA twigs announced Monday that her forthcoming record, MAGDALENE, has been pushed back slightly: It will arrive Nov. 8, rather than the initially promised Oct. 25. We'll have to wait a bit longer for the full experience, but thankfully she's tiding us over with "home with you," a third cut off the project that follows the raw "cellophane," and the Skrillex- and Jack Antonoff-produced "holy terrain," a collaboration with Future.
Like "holy terrain," the experimental track is accompanied by a surreal, self-directed visual. "home with you," an alternately gauzy and chilling exploration of loneliness, takes us from the disorienting interior of a nightclub to a ride out on the town with eerily mannequin-like companions and into the woodlands, where FKA twigs saves a young girl from a well and reveals a third eye in place of her belly button. The track, which features the line "Apples, cherries, pain," and its video seem to reference FKA twigs' battle with endometriosis and uterine fibroids. In May of 2018, FKA twigs shared via Instagram that she had spent the past year "recovering from laparoscopic surgery to remove 6 fibroid tumours from my uterus," which she compared to the size of "2 cooking apples," "3 kiwis" and 2 strawberries: "a fruit bowl of pain everyday. the nurse said that the weight and size was like being 6 months pregnant."
FKA twigs also shares that the track reflects her sense of intuition on when to leave a situation and return to her roots. "You can take the girl out of the suburbs but you can't take the suburbs out of the girl," says FKA twigs in a statement. "'home with you' reinforced my reoccurring suspicion that when i'm in doubt, I should follow my gut and go home."
Watch "home with you" below.