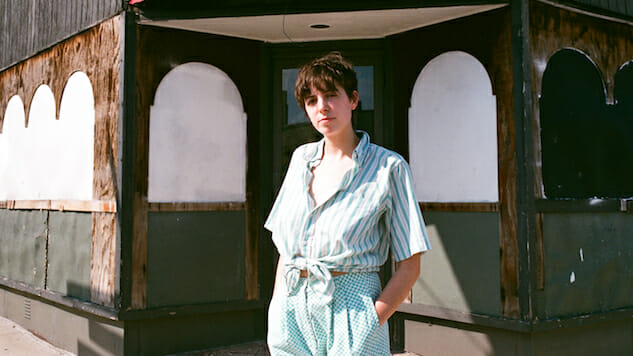 Daily Dose is your daily source for the song you absolutely, positively need to hear every day. Curated by the Paste Music Team.
Fran, the Chicago-based indie-rock group led by Maria Jacobson, are the newest signees to Fire Talk Records, the Brooklyn label that Deeper, Dehd, Patio, Weeping Icon and others call home. Last month, Fran released the first single and video off Nov. 15's A Private Picture, a churning critique of male-dominated spaces in music called "Company." A Private Picture's second single, "So Surreal," shows us a very different side of Fran.
With bouncy riffs, a chirpy chorus and just a hint of melancholy, "So Surreal" feels like a fitting soundtrack to a breezy day—or a daydream, as Jacobson explains in a statement:
"So Surreal" is about daydreaming. There's a huge disconnect between the world we create in our minds and the external world. In our minds, we jump from scene to scene, we see ourselves as more than and less than we are. We are constantly imagining the possibilities of relationships, dreams, jobs, pursuits. You have to be a Buddhist monk to just walk down the street.
Our daydreams have real power and can transform our lives—but they also pull us out of the momentum of what's happening. This song tries to capture that frenzy of being pulled in too many directions at once, even if it's all in your head.
Continuing with the theme of daydreams, the track's video (dir. Tony Duvall) is a tongue-in-cheek tribute to the pop videos Jacobson admired as a child. There are no costume changes, and the endearingly awkward dance moves are performed mostly on a desolate rooftop or in a makeshift office space. "This is my jacked-up version of an N'Sync music video," says Jacobson, and she definitely nails the emotive close-up. Watch "So Surreal" below, check out Fran's tour dates further down and catch up with the details of A Private Picture here.
Fran Tour Dates
November
08 – Cincinnati, Ohio @ The Hub OTR
09 – Columbus, Ohio @ Bourbon St. Bar
10 – Buffalo, N.Y. @ Electric Ave.
11 – Hudson, N.Y. @ Spotty Dog
12 – Middletown, Conn. @ Mac650
13 – Boston, Mass. @ O'Brien's Pub
14 – Brooklyn, N.Y. @ Alphaville
15 – Philadelphia, Pa. @ Anthorna Gallery
16 – Washington, D.C. @ 7 Drum Live
17 – Asheville, N.C. @ Beau Dome
18 – Athens, Ga. @ Flicker Bar
19 – Atlanta, Ga. @ DM
20 – Louisville, Ky. @ Kaiju
23 – Chicago, Ill. @ Hideout Inn