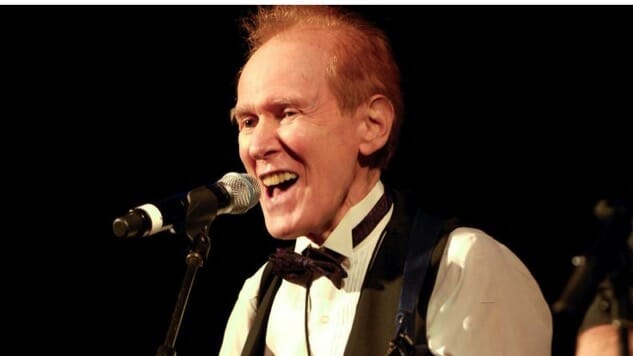 "I'm gonna build a school around this guy."
That's what Winfred Stracke, or Win as everyone called him, told an instructor in a guitar class. "This guy," of course, being Frank Hamilton, a now 81-year-old folk musician who has since opened two not-for-profit music schools.
Even at this age, Hamilton is as quick-witted as ever. His blue eyes, soft yet attentive, close gently while he speaks, as if measuring each word as it eloquently escapes his lips, even when he says "y'all." Hamilton dresses in cargo pants and a bucket hat, and his guitar case is slung onto his back like a book bag. He looks as if he's about to go hiking, but, really, he just has the free spirit of a musician who's still trucking after all these years.
His memory is sharp and can recall details of events that occurred decades ago, like when he first settled in Chicago.
After living as a traveling musician with the likes of Woody Guthrie, Cisco Houston and his dear friend Odetta, Hamilton settled temporarily in Illinois and became a house musician at the folk music night club the Gate of Horn, at the bequest of his friend Bob Gibson.
His stint at the Gate of Horn didn't pay much, so Hamilton supplemented his income through teaching. He learned how to teach from his mentor, Bess Lomax Hawes. Hamilton met Hawes, an admirable folk singer and researcher in her own right, in California in the late '50s.
"She was a mentor in teaching and as a person," Hamilton says.
While running in the same folk circles in Chicago, Hamilton and Stracke co-founded the Old Town School of Folk Music in 1957.
Hawes' teaching style was bringing students together in a group setting so they may interact on a social level.
"That was the kind of catalyst that was needed for me to pursue that [teaching] as a career," Hamilton says.
Hawes is also the principal reason Hamilton became interested in traditional American folk music. However, Hamilton's first introduction to the genre was in his early teenage years when his stepfather brought home records and sang the songs of Burl Ives and Josh White.
Hamilton also began trying to learn Pete Seeger's banjo style and started to write songs.
"I am a songwriter, but that's not my main thrust," he says. "My main thrust is interest in reviving and perpetuating traditional American folk music."
The teacher and singer hails traditional American folk music as a "natural resource" and as a "heritage we have that needs to be fostered because it defines who we are as Americans."
However, at the time of the founding of the school in Chicago in 1957, folk was not as well known as it is presently.
"The name Woody Guthrie—nobody knew who he was," Hamilton says. "Today, he's an icon."
The same year that the Old Town School of Folk Music opened, Roger McGuinn—the lead singer and guitarist of the Byrds—walked through the doors at the urging of a former music teacher who had invited Bob Gibson to play the banjo for his class.
McGuinn went to the new school with a bit of an attitude, he says. You see, he was into rockabilly and had already learned a few things on his guitar.
So, Hamilton asked McGuinn to show him what he knew. Then, Hamilton showed McGuinn what he knew, which included the circle of chords and finger picking.
McGuinn liked what he heard and joined the intermediate class. He enjoyed the group teaching style of the classes and says it was quite fun to come out of his class to play with the other levels.
He attended class for two days a week for three years, until Hamilton didn't have anymore to teach him in this setting. McGuinn and Hamilton are still in contact to this day, with McGuinn sharing his knowledge of recording techniques with his former teacher.
Other notable students of Hamilton's include Linda Ronstandt and Lowell George.
Hamilton expanded what he started in Chicago to Atlanta in the fall of 2015, though the idea was planted in his mind for some time. Hamilton and his late wife moved to the South because she worked for Delta Airlines and because he wasn't teaching at the time.
When his wife died, Hamilton returned to the idea of the school. A friend, Bob Bakert, volunteered to host the memorial concert for Hamilton's wife.
Bakert heard of Hamilton's interest in starting a school in Atlanta in the style of the Old Town Folk School, and Bakert also had an urge to do something for the community.
So Bakert and Hamilton took a trip last May back to where it all started. The two visited the management and staff of the Old Town School of Folk Music and participated in a class. The school in Chicago now has about 7,000 students.
Since the two co-founded the organization last fall, the Frank Hamilton School in Atlanta has settled into the basement of a Baptist church.
Bakert says a lofty, but achievable goal is to build the Atlanta school to the size of the original Chicago school. The Frank Hamilton School has applied for 501c3 status, which will grant the school some tax exemptions and will allow for fundraising. Bakert says that the approval should be coming soon.
The structure of the classes at the Frank Hamilton School is twofold. For the first hour on Tuesday nights, students learn their respective instruments—guitar, mandolin, ukulele, fiddle—with teachers in Sunday School classrooms plastered with posters that say things like "Your Actions Speak Louder Than Words." But, in this case, the stringed instruments accompanied by impassioned voices make the loudest noise.
Hamilton sits in on the level two class for guitar. While the teacher leads the seven students seated in metal chairs in song, Hamilton stares intensely down at his well-worn guitar. When he does sing, there is a gentle waver in his voice, reminiscent of Phil Ochs or Hank Williams. He wears rings on each finger of his right hand as he strums the guitar. Occasionally, Hamilton will pause and watch each student, sometimes getting up to suggest an easier way to transition chords to a learner.
For this particular class, the students performed "I Can't Help But Wonder Where I'm Bound," "Livin' In These Troubled Times," and "Scarborough Fair."
Thomas Helland, director of concerts and community outreach, leans over to me during the playing of "Livin' In These Troubled Times" to say that this song is "pretty appropriate these days." That's folk for you.
The director of the Frank Hamilton School, Shelley Satonin-Hershkovits, first found herself as a guitar student at the school in October. When the school began to ask for volunteers, Satonin-Hershkovits decided to step up since she has 15 years' experience teaching violin and guitar and a background in nonprofits. She volunteers her time because the very first night that she stepped into the school, "the feeling in the room was so welcoming."
Satonin-Hershkovits added that this is "a fun way to do music, a social way to do music."
"I definitely love the idea of providing a setting for community, and being able to combine that with learning music," she says.
After the first half of the night, all the students from the various classes join in a larger room in a kind of structured jam session, where teachers respectively stand at the front to lead songs such as "Will the Circle Be Unbroken" and "The Midnight Special."
Seated in a semi-circle around the leading teacher are a variety of faces. A 10-year-old plays the ukulele. A father and pre-teen reunite from their respective levels to play guitar. Seniors toward the back play the fiddle.
"We welcome diversity," Hamilton says.
Helland adds that the diversity comes across in the music, too.
"As we move along, we want to incorporate different types of music into what the students will learn and what is presented as a concert," he says.
Hamilton finds that the definition of folk has become very loose. What is a folk song? It could take years and years to really nail that one down.
Expanding the definition of folk like this has helped not only the youngins (whose parents weren't even born by the time Guthrie died in '67) but all the students regardless of age.
Yet, one thing that stands true to folk is its accessibility, as compared to the exclusivity of jazz or classical.
"Anyone can pick up a guitar and sing a song. Or a banjo, or a mandolin. Or crank out a little fiddle tune here or there," Hamilton says.
Yet, this line of thinking wasn't always powerful enough to keep Hamilton in the teaching field. He admits that he was hot and cold regarding teaching, and he even went through a period of burnout.
Hamilton then read an article in the Scientific American that inspired him to pick up the reins again. The article explained how the best method of teaching is derived from the physical proximity of a teacher, more so than students can learn from say a book or a video.
"I felt it was obligation to teach what I know because I wanted to share it," he says.
Bakert agrees and says it's incredible that Hamilton is "willing to impart all his wisdom." He calls Hamilton "damn near a national treasure."
He describes the Frank Hamilton School as a "musical YMCA" and a "secular mega church."
"We're trading in Bibles for guitars," he says. "Music is a galvanizing force in our lives."