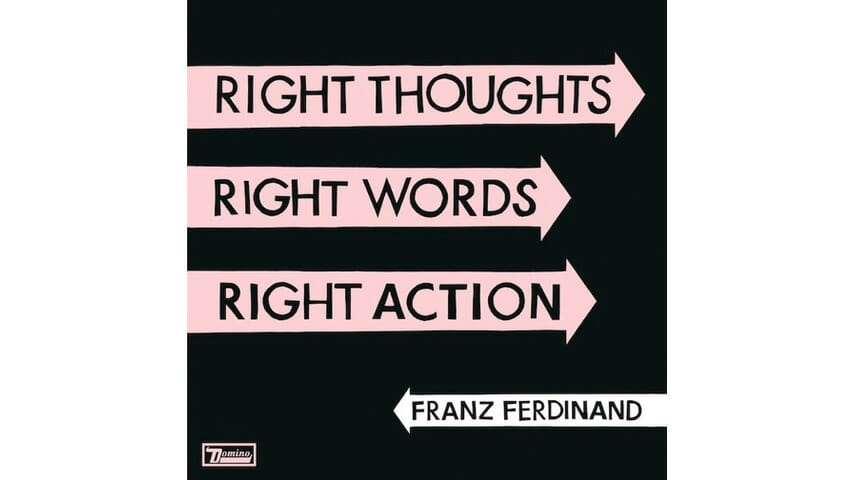 You're not going to find many people rushing record stores proclaiming Franz Ferdinand to be one of the most experimental, subversive and forward-thinking bands around. Their latest release, Right Thoughts, Right Words, Right Action, doesn't transport us to foreign and startling musical territories, nor does it usher in a new musical epoch of any kind. Time and place is not altered at all by this or any of their other released work, but that shouldn't be any issue. Like all their previous work, Right Thoughts, Right Words, Right Action can turn any time and/or place into a classy dance party and, to be honest, that tends to be a lot more fun and sometimes even more necessary than heavy, philosophical inquiry. In other words, they're no Deafheaven and definitely no Radiohead, but they're surely a hell of a good time.
When they appeared on the scene 10 years ago, Franz Ferdinand's take on indie rock had a sleek sheen, a funky sound washed and baptized by purple rain. Songs like "Take Me Out," "Do You Want To?" and "Ulysses" all stood out for their ability to get listeners on any census taker's diversified list of citizens to bop their heads. And, luckily, the new album does a great job synthesizing the past 10 years of their sound into one great big indie-punk-boogie beast.
In a lot of ways, Right Thoughts, Right Words, Right Action seems to hone what they were trying to do with Tonight: Franz Ferdinand to a better degree of consistency and artistic relevance. Their eponymous debut was an early-aughts classic upon arrival, and You Could Have It So Much Better smirked with its title when the band seemed to know they gave it to us as good as we could get. Right Thoughts channels all the best rock elements of those first two records while injecting it with the dancefloor desires of Tonight.
The title track percusses lightly at the start and then gets the car fully accelerated without the person in the passenger seat even knowing the keys were in the ignition. Before you know it, you're swept up into a speedy, white-Scots funk jam wherein Alex Kapranos benevolently inquires, "How can we leave you to a Saturday night or a Sunday morning?"
Similar entreaties find their way into "Love Illumination" as well. Kapranos makes sure the listener knows it's a multi-person affair when he sings, "We could love, we could love you / If you need somebody to love you / While you're looking for somebody to love." It's always been this kind of transitory affection that Franz Ferdinand has sung about most effortlessly. Even as they've matured over the last 10 years, they remain the group most famous for lines like "So if you're lonely, you know I'm here waiting for you" and "Well, do you? Do you, do you want to?"
"Stand on the Horizon" finds Kapranos proclaiming himself to be the proudest and cruelest man ever born as he flits around with the ever-present male difficulty of saying he's sorry. As he's an ex-theology student, there are occasional bits of banter about belief on tracks like "Fresh Strawberries." After some clever, Oscar Wilde-esque throwaway lines about thieves thinking everyone steals and liars swearing they aren't lying, he asks, "Wouldn't it be easy with / Something to believe in that could / Give us more / Than here's my years." The question is, of course, rhetorical. It'd be very easy to believe, but whether it's true or not is left for the listener to decide.
There are some lyrical blunders along the way though. "Don't play pop music / You know I hate pop music / Just sing amazing godless grace," sings the guy who plays a lot of indie pop music and only occasionally ventures into singing about amazing godless grace. And it's not like the music here is going to blow anyone's mind with its startling freshness either. Its main virtue is its catchiness, its hooks and cleverness, and any deeper values are welcome surprises along the way.
Right Thoughts, Right Words, Right Action is a fiendish and fun record. The whole affair sounds like one big, knowing smirk. Maturity is present here. But the best thing about Franz Ferdinand is the group's perpetual youthfulness and vibrancy. They may fumble here and there, but, for the most part, their latest really does get it right.