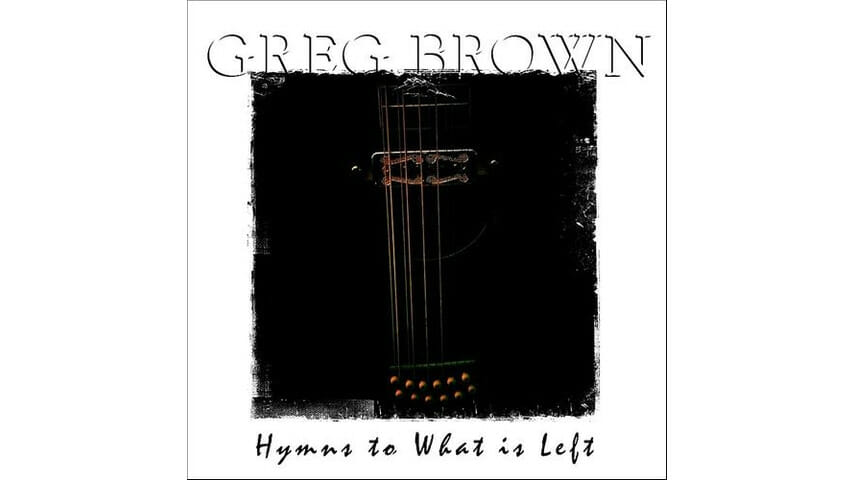 Greg Brown has been part of the American roots, folk and country scene for so long that it's become easy to take him for granted—so easy as a matter of fact that somehow I've missed out on his music until now. And that is nobody's fault but mine. There are probably at least half a dozen of his CDs in my office that I've never even opened, but by the end of today, I will have found them all, and if they're even half as good as Hymns to What is Left, his 30th album since he began recording in 1974, they'll be in constant rotation before the week is out.
I have to confess that I chose to listen to Brown's album instead of all the other ones that were sitting on my desk because I liked the art on the back cover (call me shallow). So, when I first dropped the CD into my car stereo, my expectations were low, but halfway through "Arkansas," the opening track, I started to shake my head in amazement. It had been a long time since the unvarnished power of one man singing to nothing more than simple accompaniment on the guitar had had such an effect on me. It's hard to think of similar experiences. The first time listening to Closing Time, Tom Waits' debut, or Bob Dylan's Blood on the Tracks comes close, and if you listen to as much music as I do in my job, you'll know that that feeling—the one that makes you pull your car over to the side of the road and listen so that you don't have an accident—doesn't come very often.
Since that day last week when I first heard Hymns to What is Left, I haven't wanted to listen to anything else. It's not because Greg Brown is the most original songwriter or the best guitarist on the scene. He's not. It'd be pretty easy to play musicological games and find all the old blues chestnuts and folk gems that Brown sources for his new songs, but we've all been down that road with Bob Dylan's music lately, and hopefully it's grown as tiresome for you as it has for me. Brown, like Dylan, deeply understands that all North American music is related to the great ebb and flow of its roots traditions and the songs that grew out of it. From Hank Williams to Blind Willie McTell, American roots culture is a dark and vital source for artists to tap into that gives weight and context to songs that wouldn't exist otherwise.
Greg Brown's music obviously honors the work of the singers and songwriters he loves—has anyone ever heard a better Skip James impersonation than he offers on "Besham's Bokerie"?—but his music goes much deeper than an emulation of great artists who have gone before him. He turns a song like "Bones Bones" that could have happily existed as a tribute to archaic blues motifs into a witty, funny meditation on mortality. Similarly, tracks like "Now That I'm My Grampa," "On the Levee" and "All of Those Things" offer poignant, literary observations on relationships, children, dreams and the afterlife that prove that songs that resonate the concerns of people past their 20s don't have to also slide into the abyss of easy listening music at the same time.
The songs on Hymns to What is Left are without artifice. They have guts, and they're real. Greg Brown writes and performs music that has been lived in and lived through; his songs have picked up lots of scrapes and bruises on the way to your CD player. Fans of Tom Waits, bluesy Captain Beefheart and Bob Dylan's latter-day music will find a lot to love on this album, and for my part, I can't believe that it's taken me so long to take the time to listen to this music. And, like I said earlier, once I'm finished writing this, I'm going downstairs to find all of the other Greg Brown CDs in my collection that I've been too busy, preoccupied or downright dim to check out until now and I'm going to take the rest of the day off and listen.