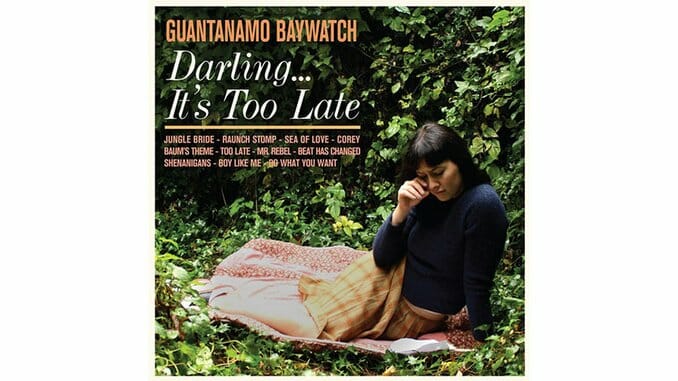 Portland, Oregon has hardly ever been able to contain the mischievous likes of Guantanamo Baywatch. So it's no huge surprise that when questing for the perfect recording environment, the trio bailed the cloudy Pacific Northwest for the sunny southern vibes of Atlanta's Living Room Recording studio. The result is a slicker homage to golden oldies rock 'n' roll, but Guantanamo Baywatch wouldn't be who they are without griming it up a little bit.
Beginning with the tropical bop of "Jungle Bride," Guantanamo Baywatch introduces a tongue-in-cheek theme of cartoonish mayhem, guitarist/vocalist Jason Powell crooning "She lived in a cave and her head was half-shaved on the side/She was 7'4" and her dinosaur drawers matched her eyes/She knocked me on the nut and drug me to her hut for the night."
The fun continues—and Darling is above all a terrifically fun listen—with the band's trademark instrumental assaults. "Raunch Stomp" sounds like it would have lit the fuse on a surf-rock sock hop in 1955, reverbed guitars, bass and drums folding in upon each other like cresting waves in a Hanna Barbera short. Songs as unabashedly torch-bearing as this deserve their very own applause, and accompanying instrumentals "Shenanigans" and a cover of Eddie and the Showmen's "Mr. Rebel" highlight the band's technical prowess against their feel-good pop sensibilities. Owing as much to Les Paul's "Carioca" as anything recorded by Dick Dale, it's Guantanamo Baywatch's ability to froth the surf on these tunes that makes them formidable.
Darling gets soulful on "Too Late," a number punctuated by the backing vocals of Motown-loving Burger Records artist Curtis Harding, and which marks a major turning point for the more gutter-loving muses the band has been known for championing in the past. The Southern-sounding rock 'n' roll heater "Sea of Love" materializes with a tattered homage of chirping, clean-toned lead guitar accents, surf beats and tight low-end. These ingredients segue into the sampled sonics of a motorcycle engine on "Corey Baum's Theme," a return to the bratty instrumentals that GB thrives on, this tune sitting somewhere between an Endless Summer bonfire and an Ennio Morricone spaghetti western ditty.
If you've been searching for your perfect summer soundtrack for 2015, you may look no further.