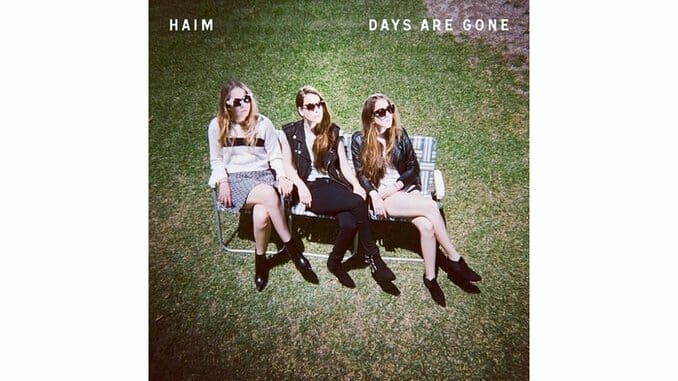 When knocking a pop song into shape, the finished product is always going to bear the marks of its influences. How a band or artist distinguishes the work is in the shading or smoothing over of those imprints. The idea, as far as I understood it, was to imbue in the listener the feeling of "Oh, this song reminds me of that song."
Lately, though, the feeling has shifted to: "Huh, this song sounds almost exactly like that song." This is the trouble Robin Thicke and Pharrell have stumbled into with their facsimile of Marvin Gaye's "Got To Give It Up." And it's something that you are going to be hearing about a lot in reference to Days Are Gone, the first LP by all-sister trio HAIM, because these young women don't try to hide their pastiche approach to songwriting in the slightest.
The most recent, and blatant, example is the group's latest single "The Wire." It opens with a "Heartache Tonight"/"Rock & Roll, pt. 2" hybrid then moves into a mixture of late '70s/early '80s rock touchstones from their beloved Fleetwood Mac to Linda Ronstadt to Billy Squier. One song later, they bring in the ruby-colored synths and spirit of Whitney Houston's "I Wanna Dance With Somebody" to augment their own "If I Could Change Your Mind," and follow that up with "Honey & I," which hews as close to the template of Eurythmics classic "Right By Your Side" without becoming an straight cover song.
It's one thing to give these reference points the spotlight, but the goal is to transcend them in some fashion. And for the most part, HAIM succeeds. Lead vocalist Danielle Haim is a constant surprise, taking some of the most unusual roués to squeeze in her discursive lyrics of personal joys and woes. And all three women use their tightly wound harmonies effectively and impressively. The original hooks on the above songs will have their barbs in you for days on end.
Days Are Gone follows the pop template to its own undoing, though. The LP is frontloaded with could be Top 10 hits, leaving the back half of the album awash in afterthoughts. As intriguing as the production gets—the interpolation of a slow trap beat into "My Song 5" is a particularly nice touch—nothing reaches the heights of the album's first six tracks. As well, multiple listens start to reveal the cracks in even the best songs here. Much of the guitar work on "The Wire" is entirely superfluous, and "Honey & I" takes far too long to really get up a head of steam.
For a first foray into the pop universe (not counting Danielle and Este's days as members of a Nickelodeon-approved girl group), Days Are Gone is a hell of an opening salvo. And considering the attention the trio has already received, they have quickly struck a chord with music fans around the world. It is where HAIM goes from here that will be the true test of their obvious abilities and guile. No matter if their next steps lead to Top 40 success or ignominy, the journey will surely a fascinating one.