Haim Say They Dropped Their Agent After Earning 10 Times Less Than a Male Counterpart at the Same Festival
Photos by Nicholas Hunt/Getty
Music
News
HAIM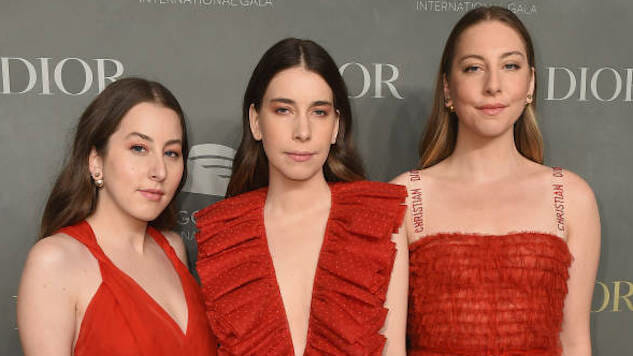 Haim are not having it when it comes to gender pay disparity at music festivals. The sisters fell victim to the festival pay gap in 2017, saying they were paid 10 (that's right: double digits) times less than a male counterpart who was playing the same event, leading them to fire their agent, as Grazia magazine reports.
Danielle Haim emphasized that when the band first learned what their wages would be, they thought nothing of it, hoping the festival would gain them exposure. When they later found out they were being paid only a fraction of what male performers were making at the same festival, they had to fight back.
"It's scary out there and it's fucked up. It's fucked up not even to be paid half the same amount," Alana Haim told Grazia. "But to be paid a tenth of that amount of money? It was insane."
Danielle Haim commented on the turn of events, as well:
We had been told that our fee was very low because you played at the festival in the hope you'd get played on the radio. We didn't think twice about it, but we later found out that someone was getting paid 10 times more than us. And because of that we fired our agent.
Danielle also acknowledged that it will be tough for the sisters to verify similar situations in the future, adding, "It's so hard to check: everything's so secretive about how much people are getting paid, and that's bullshit."
Earlier this year, dozens of festivals joined together in pledging gender-equal lineups by 2022. However, representation doesn't necessarily equal compensation, and there's no word yet on how festivals will handle equal fees. The Haim sisters did not name the festival in question.
Haim are currently touring Europe behind their 2017 LP Something to Tell You. You can find their dates right here and read our review of their newest album right here. Down below, nestle in for Haim's Daytrotter Session from 2012.