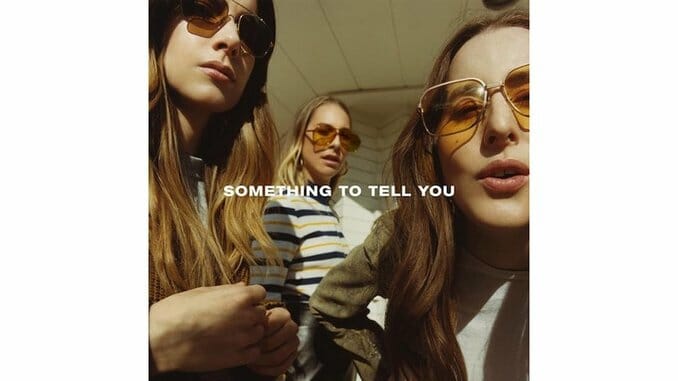 Let's face it: the sophomore slump is real for recording artists. It's hard not to still be riding the wave of Days Are Gone, the slick rock record that put Este, Danielle and Alana Haim on the map. And goddamn does HAIM know how to make a rock record with their talent. If you listen to enough of the group's music, you'll start to believe that they're not really from Earth; they must be angels who are the epitome of singing in perfect harmony.
Something To Tell You finds them going back to the well that they drank from to make their debut in 2013 with Ariel Rechtshaid once again being their go-to for production. Joining Rechtshaid this time around is former Vampire Weekend member Rostam Batmanglij, alongside musicians Greg Leisz and Lenny Castro. It's clear that the band wanted their return to be memorable. However their time spent with Taylor Swift and collaborating with Calvin Harris seemingly influenced their ear for polished pop production. And like their buddy Swift, their second full-length is their place to explore the triumph, tragedy and glory of love: the push and pull, the flirting, the longing and the fading out that happens when a relationship peaks. While there are some candid moments on their latest LP, there's a cleaner sound that is interspersed throughout.
While HAIM's modern-day Wilson-Phillips meets Belinda Carlisle vocals made them instantly alluring to listeners, it's the amalgamation of sounds, synths and unconventional special effects that create the complexity around their raw, simplistic lyrics. Yet, when it came to releasing their first single in four years, HAIM decided to take a different approach. Instead of dropping a typical, mastered mix, the Haim sisters put out a live version of their stadium rock ballad "Right Now." Not only did it solidify the trio as serious contenders in rock (something that should have been common knowledge by now) but it revealed that they owned the creative process surrounding Something To Tell You. But in opening the record, HAIM leads with "Want You Back," paying homage to the Jackson 5 slyly in both rhythm and title. They revisit the anthemic sound that gained them fame on Days Are Gone, but make the song a testament to their long-awaited return: a treat for fans.
Infectious hooks coupled with energetic claps reveal that while HAIM might be consistently good, they still know how to put the occasional edge on a song. With trippy, soulful relationship retrospectives ("You Never Knew" and "Kept Me Crying") and stripped-down power ballads ("Night So Long" and "Nothing's Wrong"), HAIM weave sweeping synths with sparse vocals that result in lovelorn anthems. The relatively cohesive album dabbles in breathy 90s R&B on "Walking Away," but it sonically falls short, feeling out of place when compared to the more dynamic tracks on the album.
On Something To Tell You, HAIM tend not to over complicate things with their West Coast pop: something that mostly plays to their advantage, but at times leaves them playing it safe. Each song on has a vintage feel, even if the direct influence is hard to pinpoint. Stevie Nicks is probably proud: the trio capitalizes on what they know by crafting emotive throwback rock songs with stellar production. HAIM remain solid storytellers, and Something To Tell You is the escape we could all use right about now.