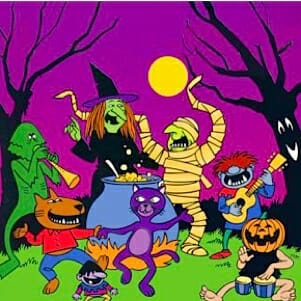 Every Halloween, dark, holiday-themed background music emanates from the windows of countless households trying to scare the daylights out of all the little kids. Sure, ambient noise can be creepy, but sometimes you just want to hear some actual songs.
We assembled a short playlist of tunes by different bands artists that touch on the wicked deeds, mythological beings, superstitions and general lore associated with this fall holiday, the only criteria being the following: no novelty Halloween songs or direct references to Halloween itself in either song title or lyrics.
13. "Howlin' for You" — The Black Keys(2010)
Not exactly a mysterious or even really a spooky song, in the context of Halloween "Howlin' for You" produces some nice imagery of a blood-starved (or maybe just love-starved) werewolf — but the first verse does seem to hint at the building insanity in the narrator's mind. Musically, it's a straightforward blues song in typical minimalist Black Keys fashion, highlighted by a classic Gary Glitter-style backbeat; a processed, wobbly guitar lick; and a catchy (wordless) chorus.
12. "Zombie" — The Cranberries(1994)
Listening to the Irish rock group's other big hits, such as "Dreams" and "Linger," you'd never guess The Cranberries could get heavy, but they did on "Zombie," a distinctive protest song with prominent distorted guitar that's more indebted to the grunge movement than the Celtic pop that defines most of their work. Complete with a politically charged video, Dolores O'Riordan's lyrics to "Zombie" deal with "The Troubles," a period of war and conflict in Northern Ireland between the Protestant and Catholic sects of the population that, in the singer's view, could turn the region into a cold wasteland filled with heartless "zombies."
11. "Frankenstein" — Edgar Winter Group(1973)
A raging, progressive instrumental that pays tribute to Mary Shelley's famous giant green monster (or, more accurately, the mad scientist who created him), Edgar Winter and company chose to name the song "Frankenstein" because it was the product of a much, much longer jam, individual parts of which were stitched and spliced together to create a shorter product, in essence becoming the band's own Frankenstein creation. The end result is a dynamic, chameleonic whirlwind filled to capacity with strong ideas and memorable riffs.
10. "Werewolves of London" — Warren Zevon(1978)
Warren Zevon's most iconic song and only true success in America, "Werewolves of London" is remembered for its jaunty piano riff and Zevon's comical werewolf howl that comprises most of the chorus. Though it concerns the terrifying mythical being that appears during full moons, the song's lyrics themselves are light and humorous. They satire human beings who go about their lives placing such an emphasis on maintaining a flawless external image ("I saw a werewolf drinking a piña colada at Trader Vic's / And his hair was perfect"), suggesting these people are trying to bury the animal within them.
9. "Spooky Jookie" — Man Man(2011)
This experimental band and its music have been compared to everything from Vikings to anarchists to vaudeville performers, but for newest album Life Fantastic they've dialed down the wackiness in favor of a darker, more earthy sound, and "Spooky Jookie," silly title aside, illustrates their new direction well. Though there are some clever fluctuations in tempo, the song still glides, driven by staccato piano chords and frontman Honus Honus' manic vocals, which tell a tale of a girl slipping into a state of numb depression. There's even a morbid candy reference buried in there: "She broke her teeth on an unsheathed piece of hard-tasting candy."
8. "Bone Machine" — The Pixies(1988)
Whoever Carol is, she seems pretty screwed up, but the catch is the narrator is equally wrecked. A good glimpse of Pixies leader Black Francis' surreal and often insane, lyricism, the lyrics to "Bone Machine" allude to a twisted sort of sex game between the man and woman in which the two get off on the fact that the other is cheating on them. There's a clear connection between the narrator's arousal and the lengths his girl goes to in order to look good for the man she's having an affair with. But, as usual, it's pretty surreal, leaving the exact meaning "your bone's got a little machine" open-ended.
7. "Black Magic Woman" — Fleetwood Mac(1968) / Santana(1970)
Originally a blues-rock tune written by Peter Green for the first incarnation of Fleetwood Mac, Carlos Santana and his band recorded a heavily Latin-inflected version of it a few years later that has become by far the most famous version of the song. Lyrically the song is obvious enough: The narrator is falling for a beautiful woman who is nothing but bad news and might be the devil's child, yet he can't stop being around her and feels his own heart being transformed by her evil ways.
6. "Black Sabbath" — Black Sabbath(1969)
Never mind the fact that Black Sabbath are the godfathers of metal and Ozzy Osbourne is the Prince of Darkness: From a purely musical standpoint, Black Sabbath's eponymous song is diabolical. Its central riff is built around the dissonant diminished-fifth interval, which in the Dark Ages was known as diabolus in musica, which roughly equates to the music of the devil. Coupled with bassist Geezer Butler's occult lyrics, which tell a dark tale of being forsaken by God and Satan taking over, and you have one of the most downright evil songs in history. What's more, it emerged amidst the happy peace-and-love hippie movement in the late '60s, making it even more of a shock to the system.
5. "Superstition" — Stevie Wonder(1972)
No Halloween would be complete without being reminded of all the old superstitions. The number 13, walking under ladders, broken glass, seven years of bad luck — all of these are mentioned in Stevie Wonder's iconic "Superstition," whose music has a funky, danceable swagger quite removed from a paranoid, superstitious atmosphere. The mood does make sense with the lyrics, though: In the chorus, Wonder proclaims "superstition ain't the way," cautioning the listener not to believe in illogical wives-tales and miss out on life.
4. "Bloodletting (The Vampire Song)" — Concrete Blonde(1990)
Opening with ominous bells, the soft falling of rain and, finally, a bloodcurdling scream, Concrete Blonde's "Bloodletting" immediately sets the mood for an uneasy Halloween night, kicked into high gear with the relentless pummeling of the drums, an ominous, gothic bass line, and haunting vocals courtesy of leader Johnette Napolitano. Lyrically, "Bloodletting" takes inspiration from Anne Rice's Vampire Chronicles books and superstitious imagery. The song's narrator, who refers to herself as "walking dead," longs for the vampire in question to finish her off.
3. "I Put a Spell on You" — Screamin' Jay Hawkins(1956) / Creedence Clearwater Revival(1968) / many others
One of the most frequently covered songs in the rock 'n' roll canon, "I Put a Spell on You" is an unsettling minor-key dirge with a steady waltz tempo and lyrics that concern a jealous narrator who wants to control, and possibly abuse, his woman. It was penned and first recorded by Screamin' Jay Hawkins, often credited as being the first "shock rock" act in history. In his original version, he displays a slew of odd vocal tics, like random freakish yelps and guttural, animalistic noises — a wild, unhinged delivery that was obviously ahead of its time, as the single failed to make an impact on the charts in the late '50s. Dozens and dozens have covered "I Put a Spell on You" in the years since, notably Nina Simone and Bryan Ferry of Roxy Music, but Creedence Clearwater Revival's version remains the most well-known, a straightforward, bluesy interpretation that catapulted to wider recognition after the group famously played it at Woodstock.
2. "Murder in the Red Barn" — Tom Waits(1992)
With his whiskey-soaked growl, Tom Waits has built a reputation for telling eerie tales in songs you don't always want to listen to by yourself in a dark room. "Murder in the Red Barn" is a sparse, slow shuffle dominated by a demented banjo that sounds like the strings are about to pop off — and, as with so many Waits songs, it showcases the man's talent for scary narratives. This particular one details an infamous murder that occurred in Suffolk, England, in the early 1800s in which a crazed man shot his lover dead the night they were supposed to meet (in a red barn) to elope, then proceeded to tell her family she was alive and well until her body was dug up months later. The event has been the cause of much speculation since, concerning the true motives behind the murder and the supposed supernatural premonitions experienced by the murdered girl's stepmother in her dreams, which led to the discovery of her body.
1. "Bela Lugosi's Dead" — Bauhaus(1979)
Probably one of the most frightening songs in the history of rock music, "Bela Lugosi's Dead" was the debut single of gothic rock group Bauhaus and often credited with pioneering that entire subgenre, featuring a long, jittery percussion intro, horrifying scratches of guitar noise and a threatening, endlessly repetitive bass line consisting of just three dark notes. It takes nearly three minutes for Peter Murphy's harrowing vocals to settle in amid the bizarre, dissonant guitar gloom and unwavering rhythm section. Once they do, though, his lyrics quickly stir up images of bats, undead souls, witches with capes and, of course, murder that fit perfectly alongside any Halloween-like setting. The song is all the more appropriate in that it's named after the Hungarian actor who starred as Dracula in countless old movies.