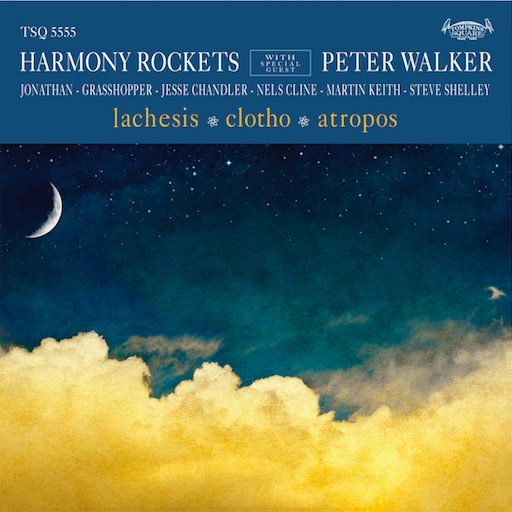 Harmony Rockets, the on-again/off-again side project of Jonathan Donahue and Grasshopper of Mercury Rev, has long felt like a place where the two men and whomever they welcome into the fold could be as indulgent as they dared. Previous releases have dabbled in everything from 40 minute psych workouts to lightly acid house covers of "I've Got A Golden Ticket" from Willy Wonka and the Chocolate Factory.
As their day job has settled into a comfortable space where they have a dedicated fan base and income stream, they can afford to play around a bit more. Hence the pair's loosely organized project Tears of Silver, a free-floating band with The Posies' Ken Stringfellow that played stripped down versions of songs from their collective discographies and some nicely chosen covers. Last year, that group did a pop up tour, playing in small spaces that were revealed mere hours before the show. And now the return of Harmony Rockets. Only this time, the lineup has been augmented by two stellar guest musicians—former Sonic Youth drummer Steve Shelley and current Wilco guitarist Nels Cline—and are serving as the backing band for recently rediscovered psych-folk artist Peter Walker.
It's a fascinating combination of talents even when it doesn't entirely cohere. Walker, who recorded a pair of delicately dazed records for Vanguard in the '60s, was recently brought from the brink of obscurity by Tompkins Square Records. The label issued a live album and a collection of unreleased material and encouraged him to perform beyond his home in the Woodstock region of New York. His finger-picked acoustic guitar and slide work remains in the foreground of this new recording, but it is surrounded by a free-flowing entanglement of sounds. Shelley, as ever, keeps the entire affair on a steady course, with unshowy beats the recall some of the best of his former band's SYR releases. That allows Cline to unfurl some instantly recognizable squiggles and warped guitar movements and the rest of the band to fill in the space around it all with drones, analog keyboard washes and even some haunting squalls from an alto clarinet.
When these three tracks are at their gauziest, as with the first half of the lengthy opening track "Lachesis" and the best parts of closing tune "Atropos," it's a hypnotizing listen. In the final few minutes of the latter, Walker jumps into focus with some swells of harmonica and some ragged guitar playing that rubs joyously against the tempo a la Derek Bailey. But a track like "Clotho" seems as if he's being shouted down in favor of the driving rock tune that dominates much of its running time. Walker is very present on the opening and closing segments but the volume feels like it's overpowering his more spacious energy.
The whole project is kept above water by the spirit that Donahue and Grasshopper, and their other guests, bring to the sessions. It's very much in keeping with everything that the two get up to out from under the Mercury Rev umbrella. They can dash off chugging guitar jams punctuated by tones from the Ondes martenot, the early synth beloved by Jonny Greenwood of Radiohead, or Cline's slashing interjections. Or get lost in a shimmering netherworld of tones and splashing cymbals for nearly eight minutes. With the shrinking of the major music industry and few independent artists relying much on record sales to survive, we're likely going to see more open-minded, freewheeling projects and albums like these by major artists. The world will be a better place for it.