Hatchie Defies Dream Pop Tropes on Her Dazzling Debut, Keepsake
Photo by Joe Agius
Music
Features
Hatchie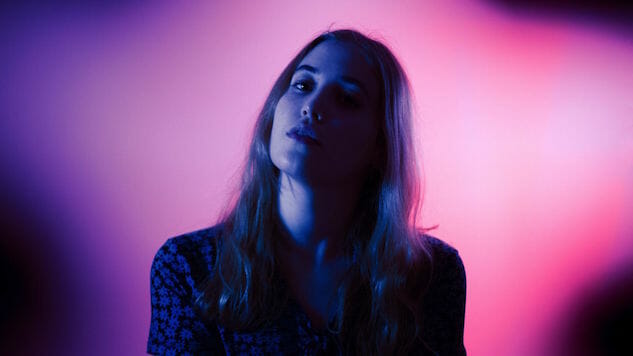 When Harriette Pilbeam greets me at the cozy Hendershots Coffee in Athens, Ga., where she's playing a show with Girlpool later that night, a few people have already spotted her sporting the headlining band's T-shirt, approaching her with "I'm going to the show tonight, too!"s. It's finals week at the University of Georgia, so frazzled students and their stained notebooks are sprawled out all over the place, chattering and huffing while we sip and talk. Just a year earlier, Pilbeam was behind the counter: "I was like a barista working in a cafe like this," she says.
That was before Pilbeam, the Australian singer/songwriter who records under the Hatchie alias, descended upon indie circles last year in a pink shimmery bubble not unlike Glinda's with Sugar & Spice, one of those rare EPs that has the power to jumpstart careers and seemingly sprout a fanbase out of nowhere.
Thanks to repeated airplay on Australian radio powerhouse Triple J and those unforgettably lush, saccharine pop songs that owe as much to Robyn as The Cranberries, Hatchie was pronounced dream pop's savior, and by the end of the year, she was one of our favorite new artists. Now with the arrival of her much-pined-for debut LP, the stunning Keepsake (out now on Double Double Whammy), Pilbeam is poised to join the ranks of indie celebrity.
Back in her barista days, Pilbeam uploaded single "Try" to Triple J's Unearthed discovery platform, a step that, for some artists, yields increased exposure, but caught her a lucky break. A lifelong resident of Brisbane, Pilbeam played piano and guitar throughout primary school and near the end of high school joined a local band where she sang backing vocals and played bass. She eventually started writing her own tunes, including a few for that group, who are on hiatus.
"I'd written two songs for that band that I really liked, but ultimately I still felt a bit unfulfilled, like the music I was making wasn't entirely me and what I wanted it to sound like," she says. "So I played around with a bit more writing and hadn't really written anything else I was happy with until I wrote 'Try.' And I instantly felt like it was right. It was what I've been looking for, and it was the first step in the right direction for me."
Once "Try" found airwaves success, it was "all systems go": Pilbeam graduated college, moved houses, left her job and found time to patch together the EP and, suddenly, music wasn't just a hobby anymore. Now, at 25, she's helming her own band and has a fast-growing international fanbase. Last year she toured the U.S. with modern indie-pop heroes Alvvays and traversed the country again this year with Girlpool. She says she expected some traction in the U.K. but never anticipated this warm American response.
"My early songs had that dream pop shoegaze link, so I think that was where I was expecting people to make a connection more," she says.
That pull is strong, but Keepsake is all over the map in terms of sound. Pilbeam makes dream pop with an edge—it's woven with washed folk tones, bubblegum radio beats, bristling electronica, that aforementioned sandy shoegaze and even slippery hints of industrial rock. Maybe it's a take on the '90s pop from Pilbeam's childhood—her favorites were the Spice Girls and The Veronicas. But then there's moments of driving guitar, not at all distant from a Pixies song or something Sonic Youth might've cooked up, that make you wonder if she was more taken with that decade's alt-rock craze. Pilbeam somehow sounds like Maggie Rogers' cool younger cousin, Dolores O'Riordan's hip niece and Romy Croft's childhood best friend all at once. "Without A Blush" is both grungy and twinky; "Obsessed" is glitchy and dark, but it has Carly Rae Jepsen's sunshiney outlook on desire.
"I just wanted to expand on my sound a little bit," she says. "I didn't want to just keep making the same bright, bubbly pop music."
It'd be easy to peg Pilbeam as a hopeless romantic. But her songs aren't all personal tales of love, crushes and heartbreak, as swoon-worthy as they may sound. She's been with her partner Joe (who also plays guitar in her band, makes her music videos and occasionally contributes to songs) for nearly five years. She says she's nearly forgotten how it feels to be single. But that doesn't mean "Her Own Heart" is any less a breakup song—it's about someone else, someone who "runs with no echo" and "shot her own heart with her own arrow." We're so often quick to discredit an artist's imagination.
"There are definitely a couple of songs that sound like they are about romance, but they're actually just about a friend," she says. "It's also hard to say, 'cause I've been in a relationship for five years, so even though I'm very much in love, it's like I can't even remember how much of a hopeless romantic I was. But I guess it depends on how you define romance. It was really important to me that I wrote songs about friends on this album, so I did it with a couple. 'Kiss The Stars' and 'Obsessed' are both about seeing old friends."
When I ask about the album's title, Pilbeam refers me to a literal interpretation of the word "keepsake." It's a record of snapshots—someone else's, at times, but a more interesting scrapbook because of it.
"I'm not that much of a nostalgic person when it comes to memories," she says. "But I do hold on to little things, like little tickets or pieces of jewelry even though I never wear it, because it reminds me of something or someone, or even coins from overseas trips. So I think the word 'keepsake' just makes sense. This album's kind of like a keepsake for me, because I feel like it really marks the beginning and the turning point of a certain time in my life. Everything's kind of starting for me now, and it's a real stepping stone into my future. So I feel like the album is a really good memory of the past couple of years."
And how would she feel about actual pop stardom?
"I would never think I'm suited to it, personality wise and even like just looks wise," she says with a laugh. "That sounds silly, but that's definitely how I saw it when I was a kid. I was like, 'I don't look like that.' And I can't even dance. But I don't know. Who knows? Never say never."
Her success, be it a product of indie hype or a vision viewed through the dream pop goggles we're all refusing to take off, is real even though it's not quite that level of notoriety. Any artist making music for a career has already forged the choppiest waters.
"It's only really just starting to seem like a realistic thing to me," she says.
Keepsake is out now on Double Double Whammy, and you can get it here. Watch Hatchie's 2018 Paste Studio session: