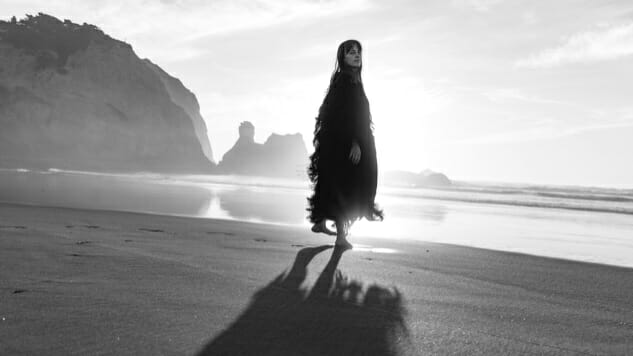 Being in a touring band is extremely hard work, a life characterized by little-to-no sleep, payment in the form of drink tickets and hundreds of miles of highways with each consecutive one looking even more like the last. It's not remotely glamorous—simple tasks like doing laundry or getting fast food become major accomplishments for the day, breaking up the monotony of driving, soundchecking, playing the show and sleeping in a cramped motel near the freeway.
After a decade-plus of being on the road for six to eight months a year, Heather Woods Broderick—a touring musician alongside Laura Gibson, Lisa Hannigan, Damien Jurado, Horse Feathers, Efterklang and most notably Sharon Van Etten—realized she had to slow things down quite a bit. Instead of returning to Greenpoint, Brooklyn following a string of dates with Van Etten in 2015, Broderick decided to move seemingly a world away from the most populous city in America, settling in Pacific City, Oregon, a beach getaway two hours from Portland (on a good day) with a population a smidge over 1,000 people to write her new album, Invitation, out on April 19 via Western Vinyl.
"Pacific City is a town that I kind of grew up going there with my family for weekend beach trips," Broderick explains, remembering her late teenage and college years in Portland. "I was really familiar with the place; it is one of the most beautiful places you'll ever visit. It looks like Big Sur—big sweeping cliffs with big, enormous, monolithic landscapes—and I was drawn to the place for those reasons."
Eyeing a gorgeous windswept coastline and a massive rock formation sticking out of the ocean that resembles Yosemite's Half Dome, she decided to start a new life in the sleepy village. But there was another calling card for Broderick—her brother, also a musician, spent a couple of years in Pacific City previously and built a small recording studio in his house. He later married an Irish woman, moved to a town about 15 miles outside of Galway and left behind the completely in-tact studio, ready for someone else to use.
Anxious to begin work on her follow up to the largely acoustic guitar-driven Glider, released in 2015 on Western Vinyl, Broderick's move to Pacific City was a no-brainer, especially since her Brooklyn apartment was ripped out from under her while on tour. But moving from The City That Never Sleeps to a new place with about 35,000 fewer people than in her former neighborhood alone wasn't an easy transition.
"It was honestly pretty terrifying," Broderick remembers. "It was almost like culture shock. I was so used to for so many years being on the go and just putting a lot of energy out, but also being around a lot of people. It's like when you have a career and you're used to doing the same thing everyday and all of a sudden, you're not doing that anymore. It was a tough adjustment for me. I realized that I as an adult, I've ever experienced the feeling of feeling like I was at home. It took me about a year and a half to get to the point where I realized I finally felt at home in this place."
When she made that cross-country move, Broderick didn't know anyone in Pacific City, save a family member who would occasionally visit. Meeting new people was rough at first and she felt lost and alone, largely because most of the houses are empty in the winter and the majority of the full time population is retired. She eventually got a regular job for the first time in seven years or so, working as a local housecleaner.
"It took me a long time to meet anyone out there," she says. "My first in to the community was the local post office. The two people who work in that post office were my saving grace in that town. You get to a point after so many days alone where you just want to talk to someone about the weather or whatever it is."
But once she began working on Invitation, her third solo album, everything changed. The home studio, complete with a piano—Broderick's first and favorite instrument—led to a record that sounded much different from anything she's released prior, one with swelling strings and piano melodies that recall the crashing waves and stunning landscape that surrounded her.
"The vastness and the open space and the greatness of these natural wonders, I think they do a lot for the soul and the ego," Broderick explains. "They take it back down to reality and when you're standing amidst all of this beauty, you realize that you're one tiny little piece of this big puzzle. I think that's scary for people sometimes, but I find great comfort in knowing that. I'm sort of drawn to a cinematic sound anyway and I'm always very influenced by my surroundings. For me, the mood and the dynamics correlate really strongly to the colors and things like that that are associated with the landscape. It wasn't like I was trying to write a soundtrack, but I do agree that it very much became that."
Invitation's lyrics, which simultaneously reflect the landscape around her and the culture shock she experienced in her move to Pacific City, quickly bring to the forefront the album's most vital and profound statement: "Have I changed yet? / I went away / Have I changed yet? / Or do my habits still remain?" The refrain, sung as elegant strings build behind her voice towards the end of album opener "A Stilling Wind," ponders whether or not the drastic move translated into any legitimate change in her personality: What was the point to leaving New York if nothing changed inside her?
"It's such a busy life to be a touring musician and you don't have time to reflect on your experiences very often," Broderick says when asked about the experience as a whole. "I don't feel like I had time to check in with myself and ask myself questions like, 'Do I even like doing this?' It's sort of a snowball—one thing leads to the next and a tour just goes on and on. It was really healthy for me to step out of that for a while and take care of myself physically and mentally and learn how to sleep again for a full night, just clearing my head and slowing down enough to check in with my priorities. I do think I changed during the process and I feel like despite it being a rough transition to slow down that much, I'm 100% a healthier and happier person now that I was able to do that."
More in tune with herself and her music than ever before, the resulting album, Invitation, is a stunning testament to what can result from a comprehensive lifestyle change: slowing down for the sake of mental health. Through its epic string-led crescendos and pensive ballads—which includes "A Daydream," a solo piano instrumental that instantly transports the listener to the Pacific City beach on a chilly, foggy day—Broderick channels the feeling of being alone in a gorgeous place, wondering if the major life decision that spurred it was a mistake.
She ends the record's final song with a simple line that carries all of the weight of the world for her, an unassuming statement that changed her life forever: "I accept the invitation." Though the transformation was excruciating at times, by saying yes to her brother and moving essentially a galaxy away from her life in Brooklyn, it led to her best work to date, a beautiful record that could have only been written by challenging herself in ways she never thought she could.
Now more than three years after she packed her things and headed out west, Broderick is in a much better place, content with her new life while being back on tour again with Sharon Van Etten for the time being. But for the first time, she now has a home to return to following the final show, a comforting feeling for someone who spent her entire life constantly in transit.