Hinds Announce Third Album The Prettiest Curse, Share Music Video for Single "Good Bad Times"
Images via Andrea Savall, Mom + Pop Records
Music
News
Hinds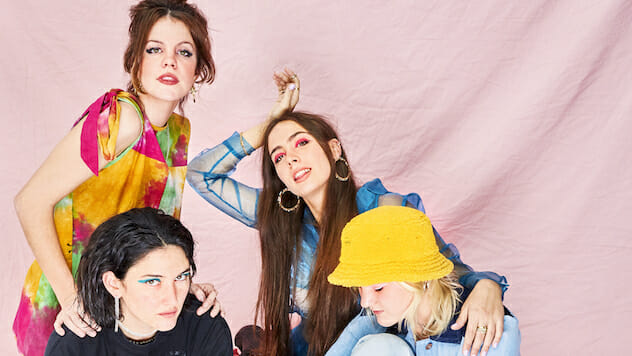 Celebrated Madrid-based indie band Hinds announce their third full-length record, The Prettiest Curse, out April 3 via Mom + Pop Records. The band shares the second single and accompanying music video from the forthcoming album, a polished pop-goes-retro song, "Good Bad Times," which follows their December 2019 single "Riding Solo."
The band's previous album, I Don't Run, stayed true to Hinds' roots as a lo-fi indie project, which began in 2014 and found its initial acclaim via Soundcloud, eventually culminating in their 2016 debut album Leave Me Alone. With The Prettiest Curse, the band will effectively abandon their DIY leanings and embrace the endless musical possibilities that come with mounting success.
"We have this incredible job, but it's really transformed the way we live," says vocalist and guitarist Carlotta Cosials in a statement. "We know we're not going to stop, so we've decided to embrace it—to see this curse as something pretty."
The music video for "Good Bad Times" does suggest that a nostalgic streak might very well be present on The Prettiest Curse. The music video follows each of the band members as they observe everyday badness—a cat stuck in a tree, a kid having his ice cream slapped out of his hand, an elderly woman's purse being stolen—as they transform into superheros to swoop in and save the day. The retro appeal of the music video is undeniable, with a distinct filmic quality that elicits a distinct '70s aesthetic—but also remains current in who the bad guy is. The major villain in the end turns out to be a Nazi, who the girls mercilessly blast away with their superpowers.
"You know that part in the movies when two people in a relationship are living complete opposite realities?" say Hinds in a statement about "Good Bad Times." "When one thinks everything is great and the other one is about to drown? 'Good Bad Times' is the struggle of communication, time difference, distance. like the two sides of a coin. Two sides close together that can't be separated, even though they seem to be completely different."
The Prettiest Curse, while a distinct departure from Hinds' earlier sound, is a unique expression of the band's background. The album will for the first time feature Hinds singing in their native Spanish tongue, which will convey emotional realities and anxieties even more aptly.
"If baby Hinds could hear this record, they wouldn't believe it—it's so far from where we started," says vocalist and guitarist Ana Perrote. "It's the first time we truly enjoyed the process and didn't ever feel we had something to prove. I'm so proud that we just let ourselves have fun, and never held back from doing what we wanted."
You can preorder The Prettiest Curse here, and check out the music video for "Good Bad Times" below, plus Hinds' 2016 Paste Studio session. The band will also be embarking on a North American tour this spring, traveling from coast to coast of the U.S. and also traversing Canada—you'll find their tour dates further down below, along with the details of The Prettiest Curse.
The Prettiest Curse Album Art: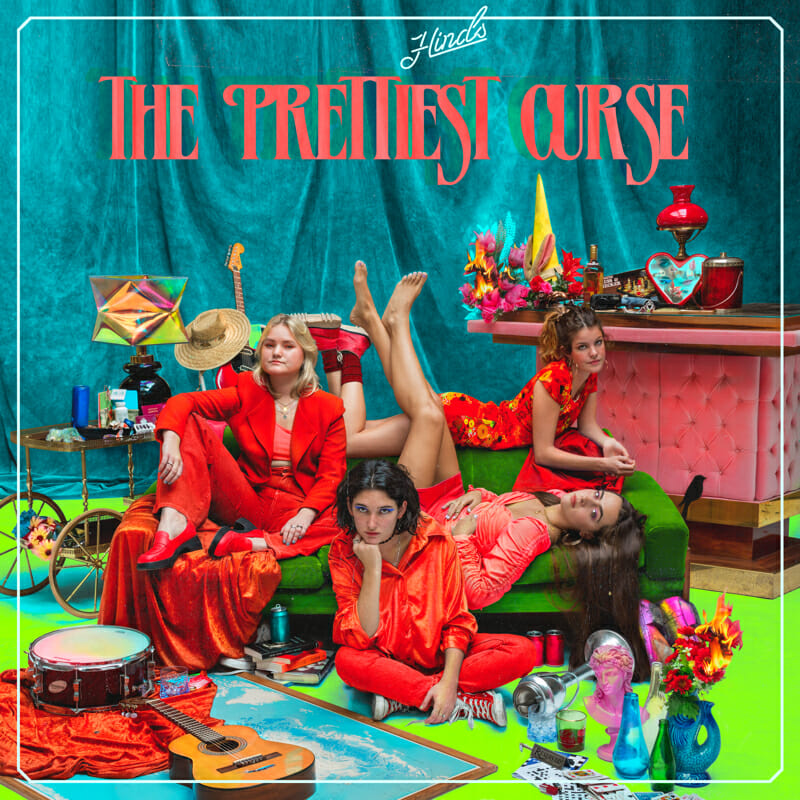 The Prettiest Curse Tracklist:
01. Good Bad Times
02. Just Like Kids (Miau)
03. Riding Solo
04. Boy
05. Come Back And Love Me
06. Burn
07. Take Me Back
08. The Play
09. Waiting For You
10. This Moment Forever
Hinds Tour Dates:
May
14 – Philadelphia, Pa. @ First Unitarian Church
15 – Somerville, Mass. @ ONCE Ballroom
19 – Toronto, Ont. @ Velvet Underground
20 – Detroit, Mich. @ The Shelter
22 – Minneapolis, Minn. @ Varsity Theater
23 – Des Moines, Iowa @ Vaudeville Mews
24 – Kansas City, Mo. @ recordBar
26 – Denver, Colo. @ Bluebird Theater
29 – Portland, Ore. @ Star Theater
30 – Vancouver, B.C. @ Fox Cabaret
31 – Seattle, Wash. @ Neumos
June
02 – Santa Cruz, Calif. @ The Catalyst Atrium
05 – Los Angeles, Calif. @ The Fonda Theatre
06 – Phoenix, Ariz. @ Valley Bar
09 – Austin, Texas @ Antone's Nightclub
10 – Dallas, Texas @ The Cambridge Room at House of Blues
11 – Houston, Texas @ The Bronze Peacock at House of Blues Houston
13 – New Orleans, La. @ Parish at House of Blues
14 – Atlanta, Ga. @ The Masquerade – Hell
16 – Washington, D.C. @ U Street Music Hall
17 – New York, N.Y. @ Webster Hall