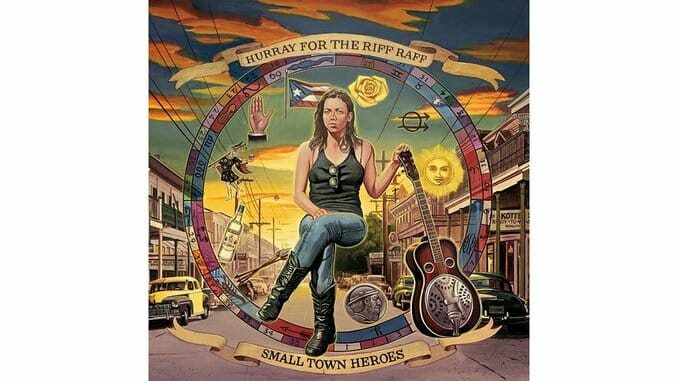 Much has been made of the fact that Hurray for the Riff Raff leader Alynda Lee Segarra calls New Orleans home, but where she makes music is rather less interesting than when on her new album, Small Town Heroes. Though the Bronx native sings here and there about her adopted hometown, Hurray for the Riff Raff's songs rarely feel rooted there. Rather, these 12 tracks encompass a broad swath of a timeless America, like old Carter Family tunes existing in the peaks and troughs of AM radio waves rolling endlessly over the miles.
Segarra's music is spare and elegant on songs built around her voice and acoustic guitar, and fleshed out with fiddle, piano, banjo, understated percussion and occasional glimmers of quiet electric guitar. For all their varying accompaniment, though, the songs take their tone from Segarra's compelling vocals. She sings with dusty sweetness on the Appalachian-style opener "Blue Ridge Mountain," and strikes a coy pose that builds into a full-throated belt on the jaunty "I Know It's Wrong (But That's Alright)."
She can sound lively, as on the bemused "Crash on the Highway," or weary, the way she does on the mournful lullaby "Good Time Blues (An Outlaw's Lament)," sighing over brushed drums and a somber walking bassline. Sometimes she's flat-out terrifying: Segarra sings with a flat detachment that builds into anguish on "The Body Electric," a murder ballad with a twist that laments a culture in which violence against women remains all too widespread more than a century after the murder of Delia Green, whose death inspired the folk song "Delia's Gone" (and whom Segarra mentions by name).
Social consciousness overlaps with geography on "St. Roch Blues," a smoky, soulful number that takes its name from a wave of homicides in a neighborhood of New Orleans. Elements of the city pop up again in the subtle zydeco flavor underpinning "End of the Line," Segarra's love letter to her home in the Lower Ninth Ward. Yet whether she's in her living room, rambling downhearted through the fingerpicked guitar of "The New SF Bay Blues" or camped under the stars in some saguaro-strewn desert on the lonesome cowboy song "Forever Is Just A Day"—or just lost in her own thoughts on the aching tribute "Levon's Dream"—the only location that matters on Small Town Heroes is the one in which you first encounter Hurray for the Riff Raff.